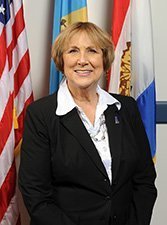 Joan R. Deaver serves as the 3rd district councilwoman on Sussex County Council, representing the Broadkill Beach, Ellendale, Lewes, Lincoln, Milford, Milton, Primehook Beach and Slaughter Beach areas. Elected to Council in 2008, Ms. Deaver has the distinction of being the first woman elected to County Council. A native of Annapolis, Maryland, Ms. Deaver spent summers vacationing in Sussex County with her family, where she enjoyed the beaches, bounty and all the beauty Sussex County has to offer. She made Sussex County her new home in 1995, when she retired to the Lewes area. As a former owner of a marina, Ms. Deaver is familiar with the challenges small business owners face. As a one-time resident of a suburban area, Ms. Deaver understands the need for economic opportunity while preserving a community's quality of life. Ms. Deaver has been a vocal advocate for managed, responsible growth and counts land use, public safety, and economic development among her top priorities. A graduate of Trinity University in Washington, D.C., Ms. Deaver and her husband, Bill, live in the Lewes area and are the parents of five grown children and grandparents to four grandchildren.
Hometown:
Lewes, Del.
Council District:
District 3
Area Represented:
Sussex County, in the area of Del. Route 24 northward, including the communities of and/or areas near Broadkill Beach, Ellendale, Lewes, Milford, Milton, Primehook Beach and Slaughter Beach
Year Elected to Council:
2008
Current Term Ends:
2016
Party Affiliation:
Democrat
Contact:
(302) 645-6657
Email Joan Deaver
Email County Council
Thoughts about Sussex County:
"Sussex County is a great place to raise a family, start a business or just retire to a temperate, inviting climate. All the time, new people are discovering what our county has to offer. I am proud as the first woman elected to the County Council to bring a new perspective and give voice to the new Sussex County – one that is becoming as diverse as the country itself. I hope to preserve the qualities that have made Sussex County what it is, and I will work toward solving the challenges we face as our county grows."