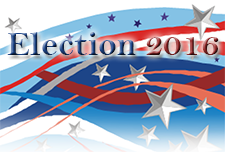 Welcome to the 2016 Sussex County Election Year Scholarship Contest, sponsored by the Sussex County Council.
The Scholarship Contest is a unique opportunity each election year for Sussex County students to learn more about the nation's electoral process, while giving them a chance to earn scholarship money for college or trade school. This year's contest will be the ninth since 2000 that the County has invited local students ages 18 and younger to predict the outcome of various local, state and national races on the ballot in the November general election.
This year's prizes include a $200 first-place scholarship award, and five $100 runner-up awards. Funding for this year's scholarship is provided by the County Council, as well as the Moore & Rutt law firm of Georgetown.
During this year's elections, eligible students will be asked to choose the winners of 20 selected races in Sussex County and Delaware, including those for County Council and Clerk of the Peace, as well as President of the United States, Congress and various State-level offices. Entries will be ranked based on the total number of correctly predicted races. Entries will be accepted online only, and must be submitted by Election Day.
For the rules of the contest, please see Election Contest Rules.
Sussex County thanks you for your interest in the 2016 Election Year Scholarship Contest, and wishes all its participants the best of luck!