The Mission of the Recorder of Deeds Office is to Serve the Residents of Sussex County by correctly recording and indexing documents in a timely and efficient manner, by courteously responding to requests for help and information, by collecting and properly accounting for the appropriate fees and taxes, and by providing every employee with motivation, training, and experience.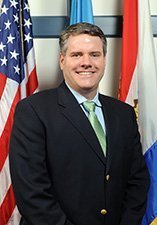 Contact Information
Recorder of Deeds
Scott Dailey
Address
2 The Circle
P.O. Box 827
Georgetown, DE 19947
Phone
(302) 855-7785
Fax
(302) 855-7787
Please Note:
Limit of 5 document Recordings per check/money order payment.
All payments must be correct or they will be returned. We no longer issue refunds.
Deeds received to be recorded within town limits without the proper Town Stamps will be returned.
Documents must be submitted in person at the recording window no later than 4 PM for same day recording.