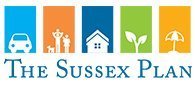 County Council on Tuesday, Dec. 4, 2018, adopted the County's 2018 comprehensive plan update, the culmination of more than two years' worth of work, with scores of public meetings, workshops, and outreach that attracted hundreds of comments, suggestions, and ideas from residents, business owners, government officials and others on how Sussex County should move forward as a growing community in the decades ahead. The 2018 Comprehensive Plan will take effect upon certification by the Governor of the State of Delaware.
The 280-page plan, which will guide County officials in various levels of decision-making, has yielded more than 100 strategies focused on everything from land use, conservation, and housing to transportation, utilities, and economic development, all of which will be considered for implementation during the lifespan of the plan. The strategies could take form as new ordinances or policies that County officials will weigh in the weeks and months to come.
Some of the key strategies in the adopted plan include:
Ways to preserve, promote and strengthen agriculture's presence in the county, including through a possible agribusiness district that would add certain permitted ag-related support uses to low-density areas;
Several initiatives to review and potentially overhaul the County's land use code, specifically measures that would focus on wetland protection, forestry preservation, and water quality;
Forming a County-level transportation committee, which would work with State officials to better monitor, coordinate and prioritize road projects;
The establishment of economic development zones to focus job creation and private investment in and around targeted communities;
Stimulating the construction of workforce/affordable housing through a review of existing impediments to such housing, and incentives, including the possibility of a community development fund.
Council's vote to approve the document is the first major update of the County's comprehensive plan since the last version was adopted in 2008. Delaware law mandates that all counties and municipalities have a comprehensive plan in place. Counties and municipalities must review and update those plans for State certification every 10 years, while providing yearly updates on the progress of implementation.