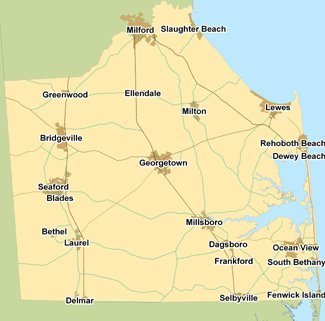 Sussex County is full of history and tradition. Among its distinctions, Sussex County is the birthplace of the broiler chicken industry, and is Delaware's largest county in terms of geography, spanning 938 square miles.
Delaware history begins with Sussex County, as the town of Lewes was founded as a Dutch whaling colony in 1631. That first European settlement gives Lewes its claim to fame of being the 'First Town in the First State' and makes Sussex County the birthplace of what would become present-day Delaware.
Sussex County is named for the County of Sussex in England, which was the home of Colonial proprietor William Penn.
Today, Sussex County, Del., is diverse in both its riches and its lifestyles. It is home to numerous seaside resorts, small towns, industry, and agriculture. Along the coast, tourism is strong in the quaint and tony resort beach towns. Western Sussex County, meantime, is the backbone of Delaware's agriculture industry with more acres of arable land under cultivation than anywhere else in the state.