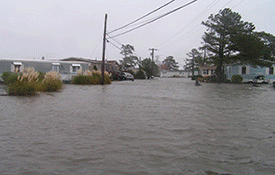 Do you know your flood risk? You should if you live in Sussex County, Delaware, where more than one-fifth of all properties are within identified flood plains.
Federally-mandated flood maps, known as Flood Insurance Rate Maps (FIRMs), have been updated for Sussex County, allowing property owners to continue participating in the National Flood Insurance Program. Adopted by ordinance by the County in January 2015, and affirmed by the Federal Emergency Management Agency in March 2015, the maps are an important tool for planners, developers, builders and property owners to assess flood risks.
As part of the update process, Sussex County government joined state and federal partners in an effort to inform the public about the changes, as well as educate property owners on how those changes could affect them. The County hosted a meeting in December 2013 for citizens to meet with FEMA officials to discuss their flood risk.
This site is provided so property owners and residents can view the maps, understand the update process, and learn more about flood insurance.
The following links are provided as helpful resources:
For more information, contact the Sussex County Environmental and Flood Plain Manager, Mr. Jeff Shockley, at (302) 855-7884 or by email.