In the fall of 2021, Sussex County began the process to redraw the boundaries of its five elected County Council districts following the release of population data from the U.S. census. This process, known as 'redistricting', occurs at the local and state level following the federal decennial population count to ensure an even distribution of residents among their elected representatives.
Due to population increases, particularly in eastern Sussex County, with more than 40,000 new residents countywide between 2010 and 2020, the County Council's boundaries must adjust accordingly.
To achieve this, the County's legal staff have drafted a proposed map, unveiled Dec. 14, which will be considered for adoption by the County Council in early 2022.
Subsequent to the proposed map's unveiling, the public submitted comments on the proposal through the January 7, 2022 deadline.
On February 1, 2022, the County Council introduced an Ordinance to adopt the proposed Councilmanic Districts. The public hearing will be held on Tuesday, March 1, 2022.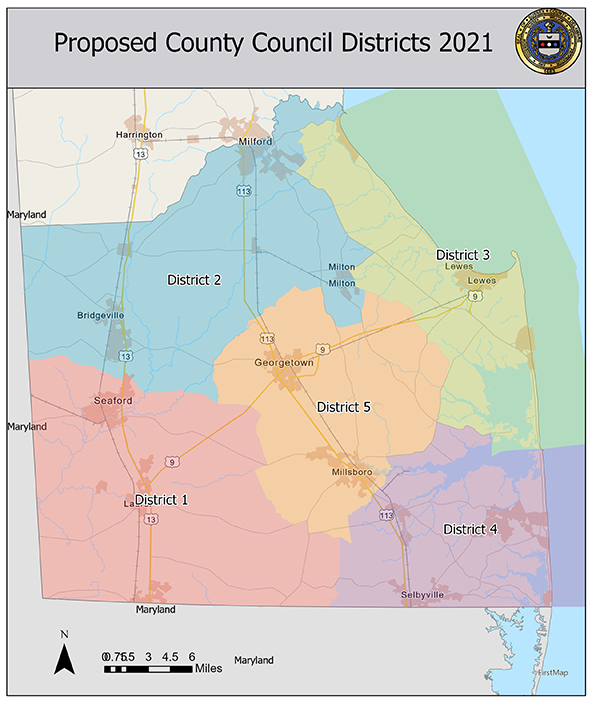 Proposed Redistricting Map Links
Redistricting Map - Boundary Lines
Redistricting Map - All Five Districts
December 14, 2021 Redistricting Presentation
March 1, 2022 Public Hearing
Downloadable Files
News Releases
Sussex County receives draft County Council redistricting map, seeks more public input
Sussex County announces start of 2021 redistricting process, solicits public input