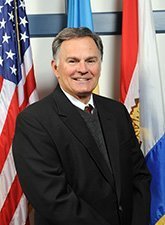 George B. Cole serves as the 4th district councilman on Sussex County Council, representing southeastern Sussex County and the area around the Inland Bays, including Bethany Beach, Dewey Beach, Henlopen Acres, Long Neck, Millville, Oak Orchard, Ocean View and Rehoboth Beach. Mr. Cole is the senior-most member of County Council and its longest-serving member in the modern era, first winning election in 1986. In fact, the Cole family has a deep past in representing the people of coastal Sussex County. Mr. Cole is the third member of his family to sit on Council since the County Council form of government was adopted in 1970. His father, Charlie, was elected to County Council in 1974; his mother, Kitty, was appointed to Council in 1985 upon Charlie Cole's passing. A licensed REALTOR® and purveyor of antiques, Mr. Cole is a lifelong resident of Sussex County who has witnessed a great deal of change over the past several decades. He has long been an advocate for sensible growth, and balancing that growth with preserving Sussex County's unique environment, rural character and relaxed way of life. A graduate of the University of Delaware, Mr. Cole and his wife, Jerri, live near Ocean View and are the parents of six children.
Hometown:
Ocean View, Del.
Council District:
District 4
Area Represented:
Sussex County, in the area around the Inland Bays, including the communities of and/or areas near Bethany Beach, Dewey Beach, Long Neck, Henlopen Acres, Millville, Oak Orchard, Ocean View and Rehoboth Beach
Year Elected to Council:
1986
Current Term Ends:
2018
Party Affiliation:
Republican
Contact:
(302) 542-4564
Email George Cole
Email County Council
Thoughts about Sussex County:
"Coastal Sussex County is one of the major resort areas on the East Coast. Our county is also an attractive place to retire or have a vacation home. So by protecting our natural environment and being business friendly, Sussex County is a gem and will continue to be a great place to live and raise a family. Please come and visit."