Sussex County, Del., can trace its history all the way back to the 17th century, with the arrival of the first Europeans in 1631 at what is present-day Lewes, and then with William Penn's charter grant from James, Duke of York, in 1682. That very act would give birth to a new Sussex County in the New World, in 1683.
Yet, for the nearly 300 years of existence that followed, Sussex County had no tangible symbol – namely a flag – to identify itself.
In the formative years of the United States of America, a new flag for a new nation was sewn and flown throughout the former thirteen colonies. It is a symbol that, over time, has come to stand for ideals such as liberty and independence, and one that evokes a sense of patriotism and pride among Americans.
States followed over the decades, most in a period spanning the mid-19th century to the early 20th century, by adopting their own banners to hoist skyward. Flags had long been used by armies to communicate on battlefields, by royalty to represent kingdoms and by mariners to signal other ships at sea. In more modern times, they have come to identify nations and states, often reflecting local characteristics, customs and histories.
Sussex County, though, had no such symbol of its own.
That began to change in the 1970s when, as Sussex County and the nation prepared to mark the 200th anniversary of the birth of the country, a movement took shape to create and adopt an official County flag.
William C. Scott of Selbyville, Del., was a member of a bicentennial committee, appointed by the Sussex County Council, to plan and coordinate a number of events and projects related to the upcoming 1976 bicentennial. It was during this time that some members of the committee, including Scott, discussed the absence of a County flag, and whether one should be created.
Mr. Scott, with encouragement from other members, took on the task of designing a flag.
"I did more time in research than anything else, maybe a couple of months," said Mr. Scott, now 73 and still living in Selbyville. "The key to whatever I was going to design was simplicity."
He examined other flag designs, clipped newspaper articles about vexillology (the study of flags) and pored over books about Sussex County's history. It was that research that led him to a design that, while seemingly simple, drew upon Sussex County's Dutch and English beginnings.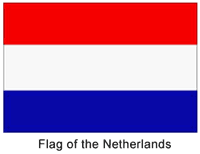 Since the Dutch were the first Europeans to establish a colony in what is now Delaware, specifically near present-day Lewes, Mr. Scott looked to the flag of The Netherlands. With its three equal bars of red, white and blue running horizontally, Mr. Scott used that flag as the template. He modified the size of the bars, however, to make Sussex County's new flag slightly different.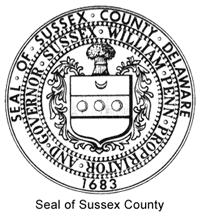 To symbolize the English rule that followed the Dutch, Mr. Scott found inspiration in the seal that William Penn adopted for his newly founded Sussex County in 1683. At the center of Sussex County's seal is a sheaf of wheat, the specific crest for Sussex (Penn assigned three ears of corn as Kent County's crest, and a castle for New Castle County's).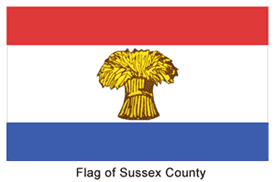 Rather than use the seal as a whole on the new banner – a practice vexillological experts frown upon in flag design – Mr. Scott decided the sheaf of wheat itself was enough.
With that design in mind, a seamstress at his family's furniture store stitched the first Sussex County flag in 1974. In October of that year, Mr. Scott unveiled the flag to the County Council. The Council formally adopted the flag on Dec. 3, 1974.
And with that, Sussex County's flag was born.
More than 30 years later, the County flag now flies outside government buildings, local schools, and even can be found on license plates. "It might not be the best design of a flag in the world," Mr. Scott noted, "but I think it works."
Indeed it does work, says Peter Ansoff, president of the North American Vexillological Association, a group of flag enthusiasts that collects and studies flags from around the nation and world.
"My impression of it, among the county flags I've seen, it's unusually good," Mr. Ansoff said. County and municipal flags often aren't very imaginative, with just a seal and a solid color background. "In this case, it's really nice to see something that's a good design and shows that some thought was put into it, that someone took the time to research the history and incorporate symbols that are appropriate for the County's history."
Joseph T. Conaway, who was County Administrator when the flag was adopted, said he remembers the County Council at the time being excited to finally have a flag for Sussex. "In those days, just catching up with the rest of the world was a big deal for us," said Mr. Conaway, chuckling. "But seriously, it was a big thing to finally have a flag that we could fly at events, or outside the Courthouse. I know people were very proud of it. When we looked at it, we felt it captured the history of the county quite well."
In Spring 2007, Mr. Scott donated to Sussex County the prototype flag he designed and presented to County Council 33 years before. The flag has since been framed, and was officially unveiled to County officials on Dec. 18, 2007. It is placed on display inside the lobby of the County Administrative Offices building in Georgetown.
Mr. Scott said designing the flag was something of which he will always be proud. It's humbling to know, he added, that something he created will presumably last for the generations to come.
- Chip Guy, Sussex County Office of Public Information
May 2007 (updated December 2007)