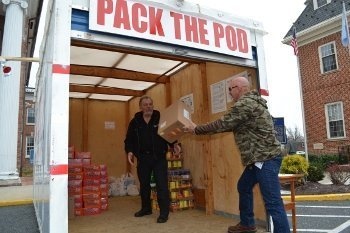 Sussex County is moving ahead with plans for the 30th annual Caroling on The Circle, despite some frightful weather. The event will kick off this evening, Monday, Dec. 9, beginning at 6:30 p.m. inside the Georgetown Fire Company, 100 S. Bedford St. The alternate location is one block south of The Circle in downtown Georgetown.
Join us for an evening full of singing and holiday cheer, and be sure to bring your canned goods and non-perishable food items to 'Pack the POD' for the less fortunate in our community. Thousands of canned goods will be collected at this evening's event and throughout the month of December to fill a PODS storage trailer on The Circle. Items collected will be donated to area food pantries serving families in our community.
The performances kick off at 6:30, so don't be late. If you can't make it this evening, you can still do your part. Please drop off your donated canned goods any time between 8:30 a.m. and 4:30 p.m. Monday through Friday at the County Administrative Offices building, 2 The Circle, in Georgetown.
Help us make a difference in our community. For more information, visit this link or call (302) 855-7700.