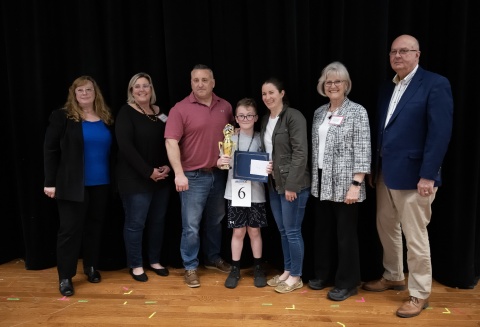 GEORGETOWN, DE (Tuesday, April 4, 2023) — A fifth-grade student from Love Creek Elementary near Lewes is at the t-o-p of the class among Sussex County's best spellers.
Declan Durand took home the championship prize at the first-ever Sussex County Libraries Regional Spelling Bee, held at Sussex Academy in Georgetown on Saturday, April 1, 2023. With a correct spelling of the word "elegant," Declan won the nine-round competition that involved 19 spellers from 10 local schools.
Durand now advances to compete in the 2023 Scripps National Spelling Bee this summer near Washington, D.C. The semifinals on May 31, and the finals on June 1, will be televised on the ION and Bounce television networks.
Courtney Harrigan, licensed speech language pathologist and president of Speech at the Beach, served as pronouncer for the competition. Judges – tasked with tracking every word and verifying spelling accuracy – were Rachel Lynch, Sussex County Librarian, Sussex County Council President Michael H. Vincent, and educator and award-winning children's author, Dr. Ilona Holland. Spellers studied a 4,000-word list provided by the Scripps National Spelling Bee.
"Libraries are a perfect sponsor for a regional bee – we provide educational support and opportunities before, during and after school age," Ms. Lynch said. "Spelling bees not only encourage proficiency in literacy skills, but also provide experience in healthy competition and overcoming the No. 1 fear of public speaking. These students did a fantastic job and should be commended. We can't wait to see them back next year."
This year's event was the first-ever regional event in Sussex County to qualify for the Scripps National Spelling Bee. The competition encourages the exploration of words and lifelong curiosity, with a focus on helping students set goals and dedicate time to study and prepare. Participation in the bee program also provides an opportunity for students to gain experience in public speaking and poise under pressure.
To learn more about the Scripps National Spelling Bee, visit www.spellingbee.com.
-30-
Media Contact
Rachel Lynch, County Librarian