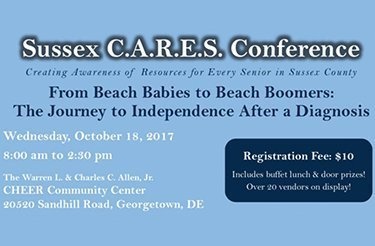 Georgetown, DE (Oct. 2, 2017): Sussex County cares about its growing senior population, and to prove that, public officials, community leaders, and health advocates are holding a new conference to talk about issues facing senior citizens and their loved ones.
The Sussex CARES (Creating Awareness of Resources for Every Senior in Sussex County) Conference, formerly the Live Conference, will be held from 8 a.m. to 2:30 p.m. Wednesday, Oct. 18, 2017, at the CHEER Community Center, 20520 Sandhill Road, Georgetown. The registration fee is only $10, which includes a buffet lunch. The conference is hosted by the Sussex County Advisory Committee on Aging and Adults with Physical Disabilities.
Titled "From Beach Babies to Beach Boomers: The Journey to Independence after a Diagnosis," guests will have an opportunity to learn about the various challenges faced by people as they age and the resources available to help individuals cope with those challenges. Topics of the day include changes and new Sussex County services for seniors, as well as several presentations, including those focused on neurological problems as people age, presented by Dr. Lawrence Kemp of Atlantic General Hospital; and cancer and its effect on the older population, presented by Jo Allegro-Smith, Sussex County director for the Cancer Support Community, and Debbie Campbell, RN, cancer screening nurse navigator for Beebe Healthcare's Tunnel Cancer Center. There also will be presentations of services and resources by CHEER, Easter Seals, the Alzheimer's Association, and the Aging and Disability Resource Center (ADRC).
Meantime, numerous vendors and exhibitors will be on hand to provide information. And, on a lighter note, attendees will be treated to a skit by Mr. Goodwood, aka Ken Huff, encouraging people to have a different "type of talk" with our elders from the ones senior citizens' parents might have had with them when they were younger.
For more, information, or to get a registration form, contact Ruth Ann Beideman at (302) 422-5060, or Helen Smith at (302) 629-5619. Registration can also be completed online at http://bit.ly/sussex-cares.
The Sussex County Advisory Committee on Aging & Adults with Physical Disabilities is an 11-member panel established by the Sussex County Council to be an advocate for programs and policies that benefit older and disabled residents. The Advisory Committee's mission is to increase dialogue, make recommendations to Council, and give support, assistance and advice on significant issues and programs that may affect the lives of the county's aging and adults with physical disabilities populations. For more information, visit the Advisory Committee's page at sussexcountyde.gov/boards-committees.
###
Media Contact
Ruth Beideman, events spokeswoman