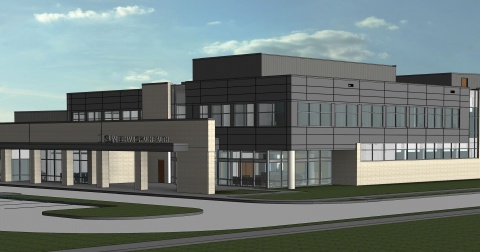 Georgetown, DE (Sept. 6, 2017): As Sussex County's population has swelled in recent years, so, too, has the demand for new services, particularly as it relates to healthcare. But those suffering from mental health or substance abuse issues have long found a lack of options when it came to care in southern Delaware. The sun, however, will be rising soon on a new facility that aims to change that.
The Sussex County Advisory Committee on Aging & Adults with Physical Disabilities, at its September meeting, will host a presentation by SUN Behavioral Health CEO Steve Page. The meeting will take place at 10 a.m. Monday, Sept. 18, 2017, at the CHEER Community Center, 20520 Sand Hill Road, in Georgetown. Mr. Page will provide an update on SUN's 90-bed behavioral health hospital complex currently under construction in Georgetown. The $25 million, two-story facility – the first of its kind in Sussex County – is expected to open next summer, and will provide a full continuum of specialized care, including inpatient and day hospital services for those suffering mental health and substance use issues. SUN Behavioral Delaware, which is expected to eventually add as many as 130 jobs to the local economy, will offer specialized programs for children, adolescents, adults and seniors.
The Sussex County Advisory Committee on Aging & Adults with Physical Disabilities is an 11-member panel established by the Sussex County Council to be an advocate for programs and policies that benefit older and disabled residents. The committee meets every other month, in January, March, May, July, September and November. All meetings are open to the public.
The Advisory Committee's mission is to increase dialogue, make recommendations to Sussex County Council, and to give support, assistance and advice on significant issues and programs that may affect the lives of the county's aging and adults with physical disabilities populations.
For more information, visit the committee's page at www.sussexcountyde.gov/boards-committees.
###
Media Contact
Ruth Beideman, Committee chair