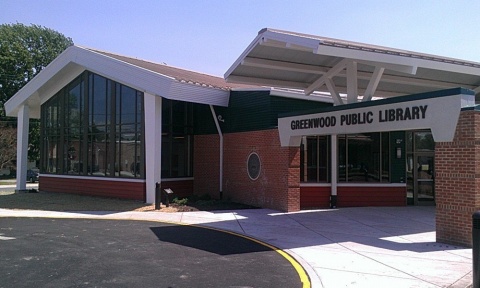 Georgetown, Del., June 11, 2014: Fans of the Greenwood Public Library will be able to check out books, videos, music and much more, not to mention the library's new digs, when the facility re-opens later this month after a more-than-two-year-long construction project.
The library's new 10,400-square-foot home in downtown Greenwood will open following a ribbon-cutting ceremony at 1 p.m. Tuesday, June 24. The new building is located on the site of the former library facility, 100 Mill St., near the old Greenwood railroad station. The event is open to the public.
Following the ribbon-cutting ceremony with local, county and state leaders, library staff and members of the Friends of the Greenwood Public Library, the public will be able to tour – and use – the new library. During construction of the $3.1 million project, the library was housed in temporary quarters at U.S. Route 13 and Del. Route 16 in Greenwood.
Plenty of prizes and activities are on tap for the grand opening event, including free books for children, book signings by local authors L. Kay Bryden and Lennie Martin, children's literature characters in costumes, raffles, face painting, children's and teen crafts, music by local band "Imagine" and more. Staff will also be on hand to register children for the Summer Reading Program.
For more information, call the library at (302) 349-5309.
###
Media Contact
Chip Guy, Communications Director