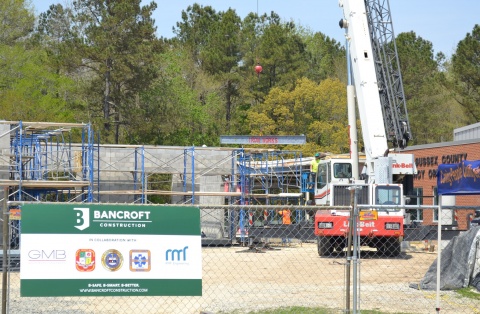 Georgetown, Del., April 26, 2022: The final piece of the steel puzzle is in place on Sussex County's $12 million expansion to its public safety complex.
Members of County Council, joined by representatives of Bancroft Construction, the volunteer fire/EMS service, Delaware legislators, and other guests, gathered Tuesday, April 26, to witness the final steel beam being hoisted into place atop the Emergency Operations Center. Moments before, guests were invited to sign the steel beam, for posterity, to mark the occasion.
Known as a 'topping out' ceremony, the brief event popular in the construction industry marked a major milestone in the project to expand the facility near Georgetown into an all-inclusive public safety complex for the County's 9-1-1 dispatchers, paramedics, and other emergency officials. The center, first opened in 2008, will double in size with a nearly 20,000-square-foot addition to serve the County's Emergency Medical Services Department as its new base of operations, providing offices for about two dozen administrative staff members, state-of-the-art classrooms for continuing education and simulation exercises, and warehouse space for EMS equipment and other logistics needs.
When complete, the unified complex will, for the first time, house all of the County's public safety resources – police, fire, and EMS – in one place, providing for a stronger collaboration among the various emergency services, County Administrator Todd F. Lawson said.
The project, which began in the fall of 2021, is expected to be completed by early 2023. The expansion is funded with money from the County's portion of the State realty transfer tax.
###
Media Contact
Chip Guy, Communications Director