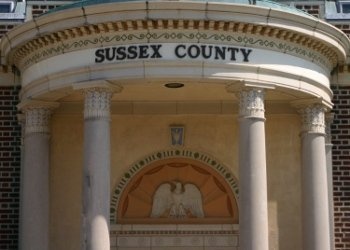 Georgetown, Del., June 17, 2014: Sussex County property owners can bank on another year of low taxes and limited spending.
Sussex County Council, following a public hearing Tuesday, June 17, 2014, unanimously approved the proposed $117.3 million budget for the 2015 fiscal year that begins July 1. The approval marks the 25th year in a row the County's property tax rate has remained at 44.5 cents per $100 of assessed value. The average County tax bill for a single-family home remains around $100 annually, not including independent school district taxes.
Thanks to a recovering housing market and strengthening local economy, the County's revenues look healthy for the year ahead. The budget, down only slightly from the current year's $117.7 million plan, is supported by a mix of income streams, including property taxes, realty transfer taxes, sewer service fees, building permit fees and document recording fees. That revenue, in turn, provides for a wealth of local services and functions, from the County's life-saving paramedic and 911 programs to wastewater treatment and community libraries.
"This budget once again focuses on providing essential services of the highest quality for the best value possible," County Administrator Todd F. Lawson said. "That's what any consumer wants, and Sussex County is proud again to deliver a product that is affordable."
While the overall budget is down, the general fund portion of the budget is expected to rise by 3.6 percent, or $1.8 million. That is due in part to an expected surplus from Fiscal 2014 that will be finalized later this year, as well as an expected increase in investment income, added assessments from new construction, and a continued rise in building inspection fee collections. The general fund portion of the budget pays for day-to-day operations and services offered by County government.
The new budget maintains grant funding for local service providers, including municipal police departments, local libraries and non-profit community groups, while increasing funding by $100,000 to local volunteer fire companies, which are expected to receive some $3.4 million in Fiscal 2015 from a projected rise in building permit revenue.
On the operations side, the proposed budget includes a 2 percent cost of living adjustment for the County's nearly 500 employees and a 1 percent COLA for pensioners, as well as more than $230,000 in funding to digitize land use maps and improve public access to Planning & Zoning information online.
County Council President Michael H. Vincent said this year's budget should be welcomed news to county taxpayers and property owners, who already face enough demands on their wallets.
"As we all know, the cost of everything has gone up or is going up, whether it's electricity, gas, food or even a cup of coffee," President Vincent said. "I know the people of this county are thankful to have one less bill that is increasing.
"I'm proud of our dedicated staff who developed this budget, which enables us to continue the County's long-standing practice of being good stewards of the public's hard-earned dollars," Mr. Vincent said.
###
Copies of the Fiscal Year 2015 budget presentation, as well as the original news release issued May 20, 2014, are posted on the County's website at sussexcountyde.gov.
Media Contact
Chip Guy, Communications Director