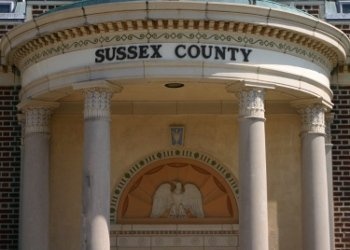 Georgetown, Del., June 16, 2015: Sussex County taxpayers can expect another year of quality service at an affordable price.
Sussex County Council, following a public hearing Tuesday, June 16, 2015, unanimously approved the proposed $128.6 million budget for the 2016 fiscal year that begins July 1. The approval keeps the County's property tax rate at 44.5 cents per $100 of assessed value. The average County tax bill for a single-family home will remain around $100 annually, not including independent school district taxes.
By law, Sussex County must adopt a balanced budget by June 30 each year.
The budget is supported by a mix of income streams, including property taxes, realty transfer taxes, sewer service fees, building permit fees and document recording fees. That revenue, in turn, funds a wealth of local services and functions, from the County's life-saving paramedic and 911 programs to wastewater treatment and community libraries. With the exception of an $8 increase to annual sewer service fees, most other rates and fees remain the same for 2016.
"This budget delivers on the County's continual promise of providing quality service that doesn't break the bank," County Administrator Todd F. Lawson said. "We believe this budget meets the needs of our customers for the year ahead in a fiscally responsible way."
For FY2016, operational expenses in the general fund portion are up only 2.9 percent, which is below the 3.3 percent growth rate in the county's taxable assessments. The general fund portion of the budget pays for day-to-day operations and services offered by County government.
The overall budget plan, which includes the general fund and capital portions, is up $11.3 million, or 9.6 percent, from the current year's $117.3 million budget, largely due to long-planned sewer construction projects included in the County's capital plan. Funding for those projects was collected and set aside in previous fiscal years.
While the County continues to serve a growing constituency, the proposed budget keeps operational expenses in check, limits fee increases, and holds the line on property taxes – familiar budget themes in Sussex County over the years.
The new budget maintains grant funding for local service providers, including local libraries, non-profit community groups, municipal police departments, and volunteer fire companies, the latter of which will receive some $3.4 million in Fiscal 2016. Meantime, on the operations side, the adopted budget includes $800,000 to continue the County's efforts to digitize records, particularly for assessment and property records.
County Council President Michael H. Vincent said the new budget continues the County's tradition of conservative financial management, while looking forward enough to provide for new technology, for instance, that will make the County more efficient and user-friendly for the public it serves.
"The people of Sussex County know the value of their hard-earned dollars, and that's something that is present in our minds each and every day," Mr. Vincent said. "This budget is a reflection of that – keeping costs affordable, but adapting to the changing needs of the customers we serve. The taxpayers entrust us to strike the right balance each year, and I believe this new budget does just that."
###
Media Contact
Chip Guy, Communications Director