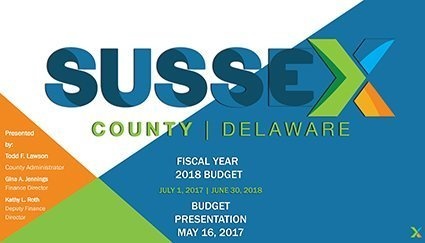 Georgetown, Del., June 13, 2017: Sussex County taxpayers can count on another year of quality public services at an affordable price.
Sussex County Council, following a public hearing Tuesday, June 13, 2017, voted 4-0 to approve the proposed $143 million budget for the 2018 fiscal year that begins July 1. By law, Sussex County must adopt a balanced budget by June 30 each year.
The proposed budget keeps day-to-day operational expenses in check, limits fee increases, and holds the line on County property taxes – familiar budget themes in Sussex County over the years. The adopted spending plan, though, invests significant new dollars, pulled from cash reserves, to maintain or expand critical services and infrastructure, including police, paramedics, upgraded wastewater systems, and launch a pilot program to expand broadband Internet service in more rural parts of the county.
"We believe this is a fair, reasonable approach to funding the County's obligations today and in the year to come," said County Administrator Todd F. Lawson, who in May presented to County Council the proposed budget for its consideration. "This budget furthers the County's commitment to advancing public safety, protecting the environment, and promoting the general welfare of the people we serve."
Among some of the major highlights in the proposed budget, the plan includes increased funding for the County to maintain its contract with the State of Delaware for additional state police troopers to be assigned to Sussex County, as well as funding to increase around-the-clock paramedic coverage in the Seaford/Blades area; $1 million in startup funding to begin a pilot project to install fiber optic cabling to expand high-speed Internet to rural parts of the county; and more than $8 million in capital funding to begin phased, major upgrades at the County's South Coastal, Inland Bays, and Wolfe Neck regional wastewater facilities to as much as double treatment capacity.
The budget is supported by a mix of income streams, including property taxes, realty transfer taxes, sewer service fees, building permit fees and document recording fees. That revenue, in turn, funds a wealth of local services, including life-saving paramedics and 911 dispatchers, environmentally beneficial public wastewater, critical building inspection, and culturally enriching libraries, among other services.
Next year's plan includes no change in current property tax rates, sewer and water service charges, or building permit fees; however, increases are proposed for one-time sewer connections, plan review, and various Marriage Bureau fees.
County Council President Michael H. Vincent said the adopted budget represents the County's long-standing commitment to conservative fiscal management, but still provides for expansion of critical services, including public safety and wastewater, that protect constituents and the community in which they live.
"Our constituents are our customers, and they expect the biggest bang for their buck," President Vincent said. "I am pleased at the work this County is able to accomplish each year, no matter the economy or the budget constraints. And I'm sure the taxpayers appreciate it, too."
Copies of the Fiscal Year 2018 budget, as well as the accompanying budget presentation, can be downloaded from the County's website at sussexcountyde.gov/county-budget.
###
Media Contact
Chip Guy, Communications Director