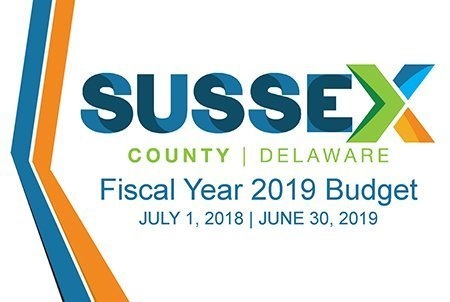 Georgetown, Del., June 19, 2018: Heavy spring rains may have drenched much of Sussex County so far this season, but taxpayers won't be soaked when it comes to their annual property taxes and local government service fees under the County's adopted budget for the year ahead.
Sussex County Council, following a public hearing Tuesday, June 19, 2018, voted unanimously to approve the proposed $177.5 million budget for the 2019 fiscal year that begins July 1. By law, Sussex County must adopt a balanced budget by June 30 each year.
The adopted budget limits fee increases and keeps County property taxes unchanged for another year, while utilizing increased revenue and cash reserves to fund significant investments in the year ahead to keep up with the demand for critical local services and infrastructure, including police, paramedics, wastewater, as well as farmland preservation and continued efforts to expand broadband Internet service to more rural parts of the county.
"Sussex County is a growing community with a bustling economy, and with that comes an unending need for a variety of local services," County Administrator Todd F. Lawson said. "It's imperative that County government remain responsive to the changing needs, while being fiscally responsible to the taxpayers, and this budget reflects that balance."
Among some of the major highlights in the adopted budget, the plan includes increased funding for the County to maintain its contract with the State of Delaware for extra state police troopers to continue to be assigned to Sussex County, as well as increased funding to local volunteer fire companies to help offset rising ambulance service costs; more than $1 million to continue broadband expansion to rural parts of the county; a $1.5 million allocation to preserve farmland from otherwise being developed; and more than $40 million in capital funding to pay for various sewer improvements and expansion projects, including $21 million as the County's portion for the Rehoboth Beach outfall project.
The budget is supported by a mix of income streams, including property taxes, realty transfer taxes, sewer service fees, building permit fees and document recording fees. That revenue, in turn, funds a wealth of local services, including life-saving paramedics and 911 dispatchers, environmentally beneficial public wastewater, critical building inspection, and culturally enriching libraries, among other services.
Next year's adopted budget keeps current property tax rates and building permit fees the same; however, water and sewer fees will increase approximately $6 each annually.
Council President Michael H. Vincent said the adopted budget is forward thinking in terms of the County's investment in major initiatives such as broadband expansion and farmland preservation, while remaining committed to the County's role in expanding central wastewater and strengthening public safety.
"We are fortunate to be in a financial position where the County has the means to meet its day-to-day obligations while being able to proactively invest in our community for the next generation," Council President Vincent said, pointing to the broadband and farmland preservation efforts as examples. "We, and the taxpayers, are even more fortunate to be able to do this with yet another balanced budget that continues to keep taxes low and fees in check, and I know our customers appreciate that."
Copies of the Fiscal Year 2019 budget, as well as the accompanying budget presentation, can be downloaded from the County's website at sussexcountyde.gov/county-budget.
###
Media Contact
Chip Guy, Communications Director