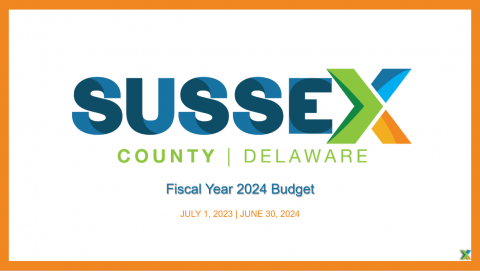 Georgetown, Del., June 20, 2023: Sussex County has minted a sensible spending plan for the new fiscal year ahead.
County Council, following a public hearing Tuesday, June 20, 2023, voted to approve the proposed $278.6 million budget for the 2024 fiscal year that begins July 1. By law, Sussex County must adopt a balanced budget by June 30 each year.
The adopted budget keeps County property taxes unchanged for another year, but does include various fee increases, as well as rate changes – $10 more annually for sewer, $15 additional yearly on unmetered water – for public utility users.
"This budget maintains the high level of service our customers have come to know, and rightfully expect," County Administrator Todd F. Lawson said. "We are keeping pace with the demand, particularly in our public safety and wastewater sectors, while maintaining exceptional value amid economic forces that continue to challenge governments, businesses, right down to individual households."
While the yearly plan is the third in a row for the County to near the $300 million mark, it is down some $15 million, or 5.3 percent, from the current year as capital spending is down and federal funding from the American Rescue Plan Act cycles out.
The budget is supported by a mix of income streams, including property taxes, realty transfer taxes, sewer service fees, building permit fees, and document recording fees. That revenue, in turn, funds a wealth of local services, including paramedics and 911 dispatchers, public wastewater treatment, building inspection, and public libraries, among other services.
Among the highlights in the proposed FY2024 budget, the proposal includes $66.1 million for wastewater infrastructure, including new sewer mains, increased treatment capacity, and other upgrades to the County's utility systems; $7.4 million to preserve open space and farmland that could otherwise be developed; increased funding, from $3.8 million to $4.1 million, for the County's contract with the State of Delaware for supplemental state police troopers assigned to Sussex County; $3.4 million to pay for the continuing court-ordered countywide reassessment of all properties; $5.7 million for local fire companies and ambulance squads to help with operational costs, including paid EMT salaries; and a $1.5 million contribution to the State, using the County's realty transfer tax reserves, for the construction of an aquatic recreational facility at Trap Pond State Park near Laurel. There is also funding, totaling $2 million, for the design, planning, and construction of paramedic stations in the Dewey Beach, Lincoln, Millsboro, and Milton areas.
County Finance Director Gina A. Jennings said the budget is reflective of the 'new norm' of economic challenges – rising demand for public services as national inflation, while somewhat lessened in the past 12 months, continues to drive increases costs. In spite of that, the County's spending remains consistent with the long-held precept of conservative fiscal management.
Council President Michael H. Vincent said the County's consistent financial track record has not only resulted in decades of awards for fiscal management, as well as a AAA bond rating, but it has allowed the County to keep the public's trust when it comes to managing their tax dollars.
"Taxpayers want the confidence of knowing their investment in local services is being used wisely and being put to good use," President Vincent said. "Sussex County demonstrates with its annual budgets – each and every day, really – that we take that responsibility very seriously. This budget reflects the County's core commitment to operating within its means, providing the best service to the people whose dollars make this all happen."
Copies of the Fiscal Year 2024 budget, as well as the accompanying budget presentation, can be downloaded from the County website at www.sussexcountyde.gov/county-budget.
###
Media Contact
Chip Guy, Communications Director