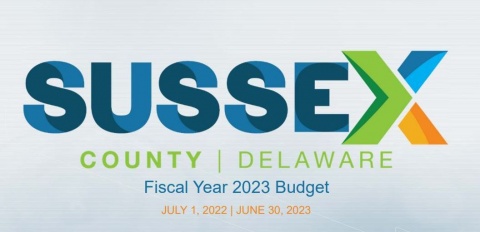 Georgetown, Del., June 21, 2022: Sussex County has mapped out its finances for the year ahead, even if the final destination of the national and global economy remains unset.
County Council, following a public hearing Tuesday, June 21, 2022, voted to approve the proposed $294.1 million budget for the 2023 fiscal year that begins July 1. By law, Sussex County must adopt a balanced budget by June 30 each year.
The adopted budget keeps County property taxes unchanged for another year, but does include various fee increases, as well as rate changes – $24 more annually for sewer, $35 additional yearly for water – for public utility users.
"Budgets are up anywhere you look, whether it's in the board room or at the kitchen table. Everyone is feeling the pinch," County Administrator Todd F. Lawson said. "Thankfully, the County has been able to adjust to the current economy, without raising property taxes and by keeping other costs to a minimum where possible. In the end, we have a reasonable, balanced plan that will carry us through the next year, and hopefully, to calmer economic waters ahead."
The yearly plan is the second in a row for the County that nears $300 million, once again fueled largely by funding from the American Rescue Plan Act, as well as a robust housing market.
The overall budget is up by more than $16 million over the annual budget proposed a year ago, but down slightly, approximately $1.6 million, when adjusted for amended expenses. Increased operational costs, continued economic uncertainty, and more demand for public services are among the many factors driving the 2023 plan.
The budget is supported by a mix of income streams, including property taxes, realty transfer taxes, sewer service fees, building permit fees, and document recording fees. That revenue, in turn, funds a wealth of local services, including paramedics and 911 dispatchers, public wastewater treatment, building inspection, and public libraries, among other services.
Among the highlights in the proposed FY2023 budget, the proposal includes $72.2 million for wastewater infrastructure, including new sewer mains, increased treatment capacity, and other upgrades to the County's utility systems; $7.4 million to preserve open space and farmland that could otherwise be developed; $7.3 million to pay for the final phase of construction of a consolidated public safety complex that will expand the Emergency Operations Center to accommodate the County's Emergency Medical Services' administrative offices and training facilities; increased funding, from $3.6 million to $3.8 million, for the County's contract with the State of Delaware for supplemental state police troopers assigned to Sussex County; and $3.4 million in funding to pay for the continuing court-ordered countywide reassessment of all properties. There is also funding, $1.5 million for the construction of a new paramedic station in the Millsboro area, and $2.8 million – up $800,000 over the current year – for local volunteer fire companies with ambulance service to cover salaries for paid EMTs.
County Finance Director Gina A. Jennings said the budget is reflective of the current economic realities – namely growing demand for public services amid an era of record inflation – but remains consistent with the County's long-held practice of conservative fiscal management.
Council President Michael H. Vincent said taxpayers should take comfort in the County's financial philosophy and stewardship, which has earned it nearly two decades of awards for fiscal management, as well as a AAA bond rating. "This is an organization that truly understands the value of taxpayers' hard-earned dollars and the responsibility the public has entrusted to us," President Vincent said. "Whether the economy is up or down, our citizens can count on Sussex County government to be a steady presence that provides the highest return possible on their investment. We're very proud of that, and we look forward to continuing that approach."
Copies of the Fiscal Year 2023 budget, as well as the accompanying budget presentation, can be downloaded from the County website at sussexcountyde.gov/county-budget.
###
Media Contact
Chip Guy, Communications Director