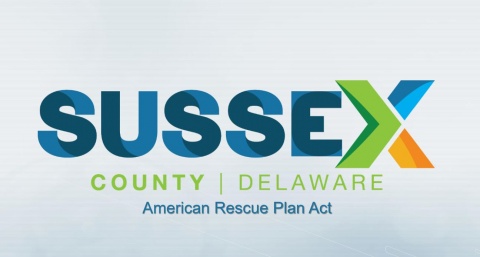 Georgetown, Del., March 8, 2022: Sussex Countians will have access to more affordable housing, a cleaner environment, and improved public safety, thanks to an infusion of federal dollars aimed at helping the community move past the global pandemic.
County Council, at its Tuesday, March 8, 2022, meeting, endorsed a staff recommendation on how to utilize federal funds awarded to Sussex County as part of the nation's response to COVID-19. Under the plan presented by Finance Director Gina A. Jennings, the County will spend nearly $45 million in federal dollars – known as ARPA funds – on a number of initiatives, including public safety, affordable housing, economic recovery, wastewater infrastructure, IT security, low-income services, and other post-pandemic efforts.
The American Rescue Plan of 2021 (ARPA), signed into law last March, established the Coronavirus State and Local Fiscal Recovery Fund. The fund is intended to assist local governments nationwide with COVID-19 pandemic recovery.
Based on population and other factors in a federal calculus, Sussex County will receive nearly $45.5 million in federal ARPA funding. The County received half of that award in May 2021, with the second half expected to be distributed in May of this year. All funds must be committed to eligible projects and expenses by Dec. 31, 2024.
"There is no doubt the coronavirus has had a profound effect on virtually every aspect of life, and it has exacerbated or exposed many needs in communities all across the country, including right here in Sussex County," County Council President Michael H. Vincent said. "While the County is fortunate to be in a strong, stable financial position overall, that does not diminish the fact that COVID has created a tremendous strain with shuttered businesses, the housing squeeze, or increased demands on our healthcare systems. Hopefully these funds and the programs they support will go a long way to helping all of us in the recovery ahead."
The estimated breakdown of how the County will utilize the funds includes:
$25 million for sewer infrastructure, including treatment and disposal upgrades to some of the County's existing wastewater facilities;
$6.3 million for affordable housing, specifically to enhance the County's new Housing Trust Fund that provides grants to non-profits and other groups developing projects;
$5 million in grants to non-profit entities, including hospitals, for eligible expenses in response to the health emergency;
$3 million for IT security upgrades to help protect the County's water and sewer infrastructure;
$2 million for low-income services, including the County's housing rehabilitation and sewer connection fee assistance programs;
$1.4 million for eight (8) additional public safety employees in the County's Emergency Operations Center and Emergency Medical Services departments;
$500,000 for the County's Kitchen Incubator initiative to bolster training in the local hospitality/tourism industry;
$250,000 for intergovernmental grants for other programs and initiatives for COVID-19 response efforts.
Ms. Jennings noted that the County's finance staff will closely monitor all funding and expenses, and will re-evaluate the distribution of dollars should other needs arise. County taxpayers, meantime, can monitor the allocation of funding through a new financial transparency portal on the County's website, Ms. Jennings said.
For more information, visit sussexcountyde.gov/arpa.
###
Media Contact
Chip Guy, Communications Director