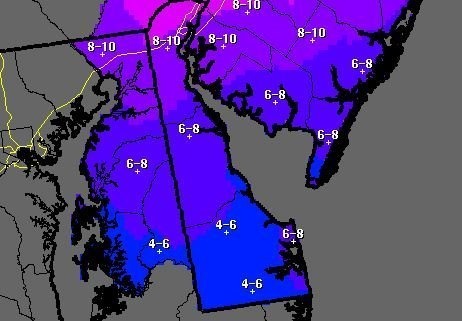 Georgetown, Del. (4:30 p.m. Tues., Jan. 21, 2014): Sussex County is bracing for its latest brush with winter weather, as a major coastal storm continues to overspread the region, bringing with it the potential for heavy snow, strong, gusty winds, and bitterly cold air in its aftermath.
Snow is beginning to pick up throughout Sussex County and the rest of the central Delmarva Peninsula at this hour, and will continue to intensify into the evening and overnight hours before tapering off early Wednesday morning. A winter storm warning remains in effect for Sussex County until 6 a.m. Wednesday, Jan. 22. Meantime, Delaware Gov. Jack Markell has declared a limited state of emergency with a travel advisory urging motorists to avoid travel this evening as conditions deteriorate.
National Weather Service forecasters continue to predict snowfall of 4 to 6 inches throughout the county by early Wednesday morning, with Arctic air poised to follow, plunging temperatures into the teens during the day and possibly into the single digits overnight. Meantime, winds of 25 to 35 mph could cause blowing and drifting snow.
"Although we have not seen much snow to this point, we could still have up to a half-foot of snow on the ground in Sussex County by sunrise Wednesday. That can still create hazardous travel and dangerous conditions," said Sussex County Emergency Operations Center Director Joseph Thomas. "The public still needs to be on guard, have their emergency plans in place, and avoid travel unless absolutely necessary."
For updates on the storm or any emergency response, stay tuned to local media outlets, and be sure to follow the County's Facebook and Twitter feeds, www.facebook.com/SussexCountyDE, twitter.com/sussexde_govt and twitter.com/SussexCtyDE_EOC. For non-emergency storm-related questions, contact the EOC's storm hotline at (302) 856-7366.
###
Media Contact
Chip Guy, Communications Director