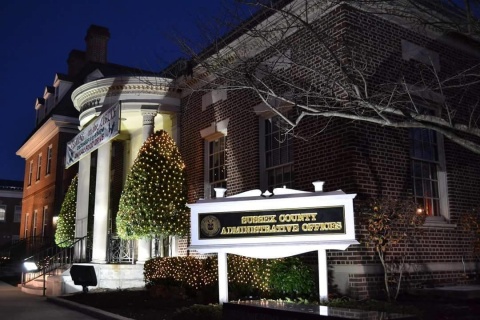 Georgetown, Del., Dec. 4, 2017: Canned goods and carols are doing more than filling The Circle during this season of giving.
More than 500 carolers gathered in downtown Georgetown for the 34th annual Caroling on The Circle event Monday night, Dec. 4, to ring in the Christmas season, and more importantly, collect nearly 24,000 canned goods and other non-perishable items for local food banks.
Each year, Caroling on The Circle kicks off the holiday season for Sussex County, while serving as a community food drive to benefit local pantries. Started in 1984 as part of the Delaware First initiative, Caroling on The Circle continues to help those in need a generation later. To date, the community has donated some 700,000 canned goods through the Caroling on The Circle program throughout the course of its 34-year history.
"Once again, Sussex County has shown in abundance its generosity and support for those less fortunate in our community," County Administrator Todd F. Lawson said. "I am proud of that giving spirit, and how it lifts the Caroling program each and every year to make a difference in the lives of our friends and neighbors in need."
As part of the Caroling event, Sussex County once again called on the public to 'Pack the POD' by setting up a 14-foot-by-7-foot PODS storage trailer on The Circle. The unit served as a focal point for Caroling and to heighten awareness about the food drive.
Monday night's Caroling event, along with collections from Sussex County Council, County employees, numerous schools, groups and businesses leading up to the event, helped this year's preliminary total to reach 23,618 items. With several weeks still left in the drive, the County hopes to take the final total even higher by the New Year.
The public can continue to drop off canned goods and non-perishable food items between 8:30 a.m. and 4:30 p.m. Monday through Friday at the County Administrative Offices building on The Circle or the West Complex offices on U.S. 113, both in Georgetown. The Caroling on The Circle food drive will continue until Dec. 29.
Mr. Lawson thanked the public and those in attendance at Monday night's event, and acknowledged several participating groups. Those included County Council, County employees, Steve Class/Colonial East, the Delaware Manufactured Home Owners Association, First State Manufactured Housing Association, Fuqua, Willard, Stevens & Schab law firm, Little Einstein Preschool, Mountaire Farms, Sussex County Association of REALTORS®, Georgetown Elementary, H. O. Brittingham Elementary, Millsboro Middle, Milton Elementary, Seaford High and Sussex Central High schools, and Sussex Academy.
Items collected will be donated to approximately 15 area pantries, shelters and church organizations for distribution within Sussex County.
###
Media Contact
Chip Guy, Communications Director