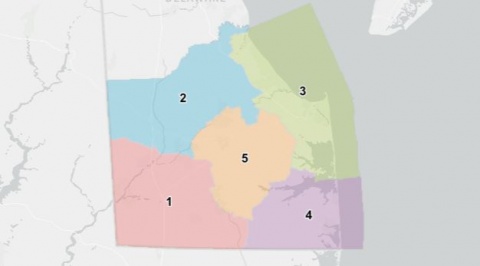 Georgetown, Del., March 1, 2022: The recalculation is complete, and the destination is set – Sussex County will look a little different, at least on the political map, for the 10-year road ahead.
County Council, at its Tuesday, March 1, 2022, meeting, adopted a redistricting ordinance and accompanying map to establish new Council districts through 2031, this after the U.S. Census two years ago showed significant growth and shifts in the population within the county between 2010 and 2020.
Each district – and the communities represented – shifts significantly under the newly adopted map to account for population growth, predominantly in eastern and central Sussex. Districts 1 through 4 now largely form a ring around the county, with District 5 occupying the center. The five new districts will be used to determine residency and the areas represented by members of County Council, a five-member legislative body of County government whose members are elected from individual districts. Each member serves a four-year term.
By law, Sussex County and other government jurisdictions across the United States must complete redistricting following each decennial census to equally distribute their populations among elected representative districts. The new district map takes effect immediately.
"This was a fair, transparent, and, frankly, apolitical process that I think everyone can and should be proud of," Council President Michael H. Vincent said. "It's important work that must be done every 10 years, and the end product should be a map that accurately reflects the changes in our demographics and our community. Ultimately, it reflects the will of the people."
Council's adoption of the new districts follows a formal public hearing Tuesday and a monthslong process in Sussex, in which residents were invited to offer suggestions – and then comments on the proposal unveiled in December – for how the new Council districts should look in the decade ahead. The County received more than 200 comments by email, mail, and in person throughout the roughly four-month period as the new districts map and ordinance were drafted and then set.
Most of the public comments offered support for a district alignment similar to what County Council ultimately adopted.
The new map, the development of which was led by County Attorney J. Everett Moore, Jr., keeps all five current Council members in their seats, and does not force any sitting member to run against another in the 2022 election. Only the seats for Districts 4 and 5 will be up for a vote in 2022, with Council elections staggered, as established by State code.
Based on the U.S. Census Bureau's 2020 population results for Delaware, Sussex County's population increased more than 20 percent between 2010 and 2020, from 197,145 residents to 237,378 residents. Given those figures, each Council district must be within plus or minus 5 percent of an ideal population of 47,475 residents, containing no fewer than 45,101 residents and no more than 49,849 residents. All of the newly set districts conform to the population requirements.
County officials considered various factors when developing the maps, including current and historical trends, geographic features, and a desire to keep together, where possible, 'communities of interest'.
The newly adopted map is available on the County's website at sussexcountyde.gov.
###
Media Contact
Chip Guy, Communications Director