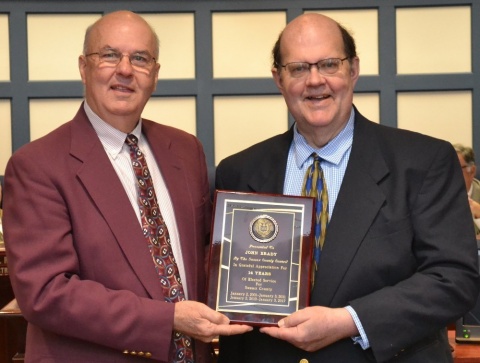 Sussex County Council took time Tuesday, April 25, 2017, to congratulate and honor former County official John F. Brady for his service to Sussex County, which ended Jan. 3, 2017, with the swearing in of a new Clerk of the Peace.
Council President Michael H. Vincent presented Mr. Brady with a tribute and plaque commemorating his 14 years of service to the County, which began in 2001 following his election as Register in Chancery, formerly a County row office housed within the State of Delaware's Court of Chancery. Mr. Brady went on to become the elected Recorder of Deeds, from 2003 to 2011, the elected Clerk of the Peace, from 2013 to 2017, and ended as an appointed chief deputy in the Register of Wills office. Mr. Brady even was a honorary appointed deputy within the County's Sheriff's Office, giving him the distinction of having held a presence in each of the County's four current row offices at some point during his 14-year tenure.
Mr. Brady, who did not seek re-elction to the Clerk of the Peace office, thanked past and present Council members, County Administrators, County employees, and the pubic for their support during his years of local government service.
Sussex County thanks Mr. Brady for his dedicated service, and wishes him all the best in the next chapter of his life!