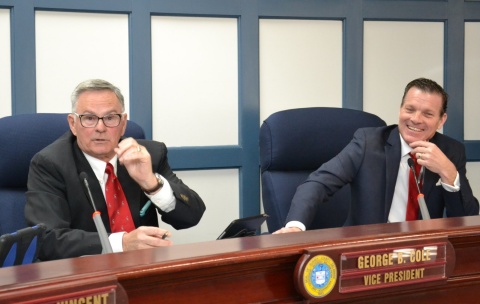 Sussex County Council took time Tuesday, Dec. 11, 2018, to congratulate and honor outgoing Council members George B. Cole, District 4, and Robert B. Arlett, District 5, for their service to Sussex County, which will end Jan. 8, 2019, when new members of the elected body are sworn in.
Council President Michael H. Vincent led other members of Council, staff and the public, many former colleagues, in making remarks, and presented both Mr. Arlett and Mr. Cole with proclamations and plaques commemorating their combined 36 years of service to the County. In Mr. Cole's case, the longtime veteran Councilman is retiring after 32 years in office, the longest-serving member of any elected Sussex County official since the Council form of government was established by the Delaware General Assembly in the early 1970s.
Mr. Cole and Mr. Arlett, both of whom did not seek re-election to their respective seats, thanked their fellow Council members, County employees, constituents, and families for their support during their time on County Council.
Sussex County thanks Councilman Cole and Councilman Arlett for their dedicated service, and wishes them both all the best as they enjoy the next chapter in life!