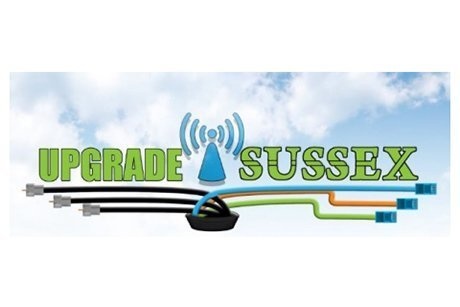 Georgetown, Del., May 15, 2018: High-speed Internet for homes and businesses off the beaten path of the information superhighway is on the horizon in Sussex County.
Thanks to a new incentive program developed by County government in the past year, four wireless Internet service providers are poised to enter the market in southern Delaware in the coming weeks to begin offering high-speed access to customers, particularly those in traditionally underserved, rural pockets of the county. Providers will supply their own equipment and independently market themselves to customers, while the County will provide space or pay for rental costs for up to two years on a mix of County- and State of Delaware-owned towers.
BridgeMaxx, Bloosurf, Nuvisions/Broad Valley, and DelmarvaVoIP/Conxx, have submitted qualifying proposals to the County to provide high-speed access ranging from download speeds of 2 megabits to 100 megabits per second. The providers will broadcast signals to customers, focused largely on areas not served or underserved by cable or mobile telephone companies.
County officials believe the unique program is a perfect example of government working with the private sector, which, in this case, has the technology, expertise, and capital, to respond to the community's growing need for reliable, broadband service.
"Local government traditionally provides critical, core services like public safety, water and sewer, libraries, schools, and so on. For many people, though, the Internet is a critical means to everyday life, whether it's paying bills online, researching a school project, or conducting business," said County Administrator Todd F. Lawson. "Here, we saw a real need within our community and had a unique opportunity to work with the State and providers, not to create a new government service, but to be a facilitator that can help draw in the private sector to satisfy consumer needs. We are proud of this new incentive program and what it represents, which is to make broadband Internet available no matter where you are in Sussex County."
In 2017, Sussex County Council set aside in its annual budget $1 million, collected through the County's share of Delaware's realty transfer tax, to upgrade wireless communications infrastructure, in part to facilitate the expansion of high-speed Internet access across the county. In addition to that, the County has been for more than a year working with officials at the State level to discuss ideas for expanding broadband Internet in the county.
One option is the new County incentive program. Under the plan, the County will subsidize the cost of renting space on two State-owned communications towers for up to two years; after that, providers whose equipment remains on those towers would have to bear the rental costs themselves, said Dwayne Kilgo, the County's Information Technology director. Meantime, the County will make space available on approximately a dozen towers it owns, giving providers the infrastructure to build a network array that serves a wider geographic area.
"The incentive program is a way for us to plant the seeds of interest and cultivate the business environment for wireless Internet providers here in Sussex County," Mr. Kilgo said. "Not only will this expand the offerings for consumers in the marketplace, and help to serve what we call 'desert areas', but it will create a more competitive atmosphere among all Internet providers, one that hopefully prompts them to invest and expand their networks. In the end, that could mean even higher speeds, lower prices, and better service – all wins for the consumer."
Among the areas that will be targeted initially are in and around Bridgeville, Dagsboro, Georgetown, Greenwood, Gumboro, Laurel, Lincoln, Long Neck, Roxana, and Seaford. As providers expand their networks and enroll more subscribers, other areas of the county would join the list of Internet-served communities, Mr. Kilgo said.
Council President Michael H. Vincent said the effort presents an exciting opportunity for Sussex County. "High-speed Internet has become as much a necessity in this century as running water and electricity were a 100 years ago," Mr. Vincent said. "We are proud of this initiative, which will help businesses compete and residents to access information wherever they are."
To learn more about the incentive program and Sussex County's newest wireless Internet service providers, visit sussexcountyde.gov/broadband.
###
Media Contact
Chip Guy, Communications Director