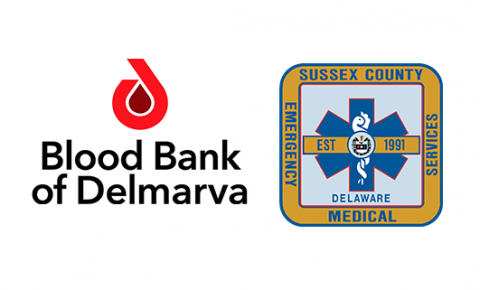 [Georgetown, DE - May 23, 2023] – Sussex County Emergency Medical Services is teaming with the Blood Bank of Delmarva to launch a new program that provides paramedics with the capability to administer whole blood transfusions when caring for critically sick and injured patients while en route to a hospital, providing a critical, timely – and potentially life-saving – treatment to those suffering shock from blood loss.
SCEMS will be the first agency in Delaware to implement this new treatment for patients.
County EMS units will officially roll out the program Tuesday, May 23, after announcing the partnership with County Council's approval of the blood bank agreement earlier this month.
This state-of-the-art clinical initiative allows for the transfusion of whole blood, a critical life-saving measure that has not been previously available in Delaware pre-hospital care. Patient transports to area hospitals – conducted by local fire companies and EMS crews, with County paramedics providing care on acute cases – can sometimes exceed 30 minutes. The time lost in transport can decrease a critical patient's chance of survival. By adding the ability to provide whole blood in the field, medical professionals are hopeful the step will significantly increase these patients' chances of survival.
"Seeing this multi-year project come to fruition is one of the most satisfying times of my career," Sussex County EMS Director Robert Murray said. "Trauma is one of the leading causes of death in our younger population. The administration of whole blood in those critically injured patients will undoubtedly save lives. In short, this is a game-changer for Sussex County and Delaware."
Sussex County EMS has been working toward this goal since 2020, partnering with the Blood Bank of Delmarva in 2021 to implement the new initiative. Under the partnership, the Blood Bank of Delmarva will supply to SCEMS whole blood from its blood bank, with both agencies monitoring conditions to ensure that the blood stock is maintained and used in the appropriate conditions and timeframe.
Sussex County EMS received approval from the Delaware Office of EMS to implement the blood administration program. SCEMS paramedics have received extensive training in preparation of the new intervention.
SCEMS district supervisors will each carry a medical-grade biothermal cooler specifically designed to maintain blood at the appropriate temperatures and will respond to calls with patients that would benefit from pre-hospital blood administration. The blood that SCEMS will carry is what is classified as 'Low Titer O Positive Whole Blood,' allowing for administration to any patient, regardless of blood type.
Blood Bank of Delmarva officials are also excited about the partnership, and the opportunity to increase the survival chances for those receiving pre-hospital whole blood transfusions.
"The partnership between BBD and Sussex County will undoubtedly save lives," said Emily Cunningham, vice president of the Blood Bank of Delmarva. "Director Murray says that his paramedics have often wondered if they could have saved more patients if they'd just had blood. We look forward to implementing this new program. We need more people to step up to donate blood so that the paramedics are always prepared."
###
Media Contact
Glenn Marshall, Sussex County EMS spokesman