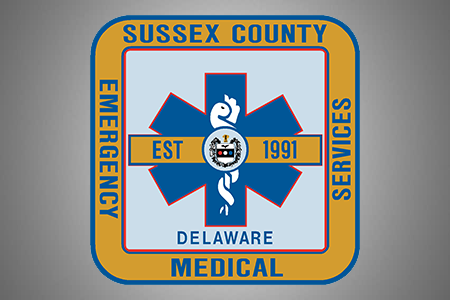 [Georgetown, Del. - Dec. 20, 2022] – Sussex County Emergency Medical Services has earned re-accreditation from the Commission on Accreditation of Ambulance Services (CAAS), one of the highest marks a pre-hospital EMS service can receive when evaluating its operations and the level of service it provides to patients.
The accreditation is the second since Sussex County EMS earned the initial designation in late 2019. It recognizes that Sussex County EMS meets or exceeds nationally accepted standards for patient care in the industry.
"It's an honor to have this recognition from our peers, validating that what we do each and every day aligns with the highest standards in the profession, and places SCEMS in a very select class," said Robert Mauch, deputy director of Sussex County EMS.
CAAS, based in Glenview, Ill., is an independent commission established in 1990 to set a comprehensive series of standards for the ambulance-service industry. These standards, "the Gold Standards," often exceed state or local regulations putting a focus on all aspects of ambulance operations. They are designed to increase operational efficiency and clinical quality while decreasing risk and liability to organizations helping to ensure superior patient care, according to the commission.
With more than 20,000 EMS agencies in the United States alone, fewer than 200 agencies in North America currently hold CAAS accreditation.
###
Media Contact
Glenn Marshall, Sussex County EMS spokesman