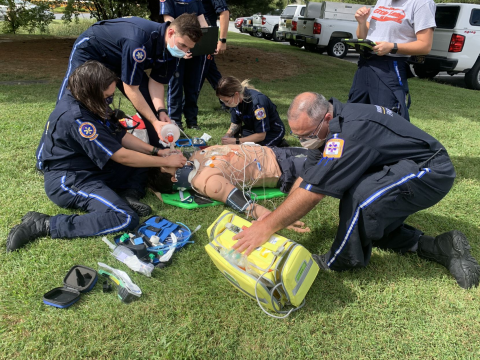 [Georgetown, DE - July 25, 2023] – Sussex County Emergency Medical Services has added another badge of excellence to its belt, recently earning accreditation from the Society for Simulation in Healthcare (SSH) for its educational training program.
SCEMS is the first EMS agency in the world to achieve the designation, typically reserved for hospitals and medical schools, according to the Society.
The certification means Sussex County EMS's high-fidelity simulation training program, developed and put into place in 2008, meets or exceeds various standards established by the third-party SSH that reviews such programs worldwide. The County's educational program, which includes the use of dynamic mannequins and mock ambulances, among other tools, is used to train paramedics, as well as basic life support (BLS) providers, in administering the highest level of pre-hospital care to patients in southern Delaware.
"Internally, we have known for a long time how lucky we are to have the simulation team performing at the level they do. They make us a better agency," said Sussex County EMS Director Robert Murray. "Well, today, their hard work has been formally recognized by an independent group, putting us in rare company with the likes of Harvard University, Johns Hopkins, and the Mayo Clinic, as well as some of our respected local healthcare facilities."
In Delaware, SCEMS joins ChristianaCare, Nemours Children's Hospital, and Beebe Healthcare in having achieved SSH accreditation. It also adds to the agency's impressive list of accolades of late, including re-accreditation by the Commission on Accreditation of Ambulance Services (CAAS), and a gold-medal win earlier this spring at the annual Journal of Emergency Medical Services (JEMS) Games.
Sussex County Medical Director Paul Cowan said the accreditation demonstrates the commitment of County leadership and SCEMS to provide excellent patient care. SCEMS Director Murray seconded that, acknowledging that the longstanding support of County Council and other County leaders has made it possible to train and equip paramedics to deliver the best care possible.
County Council President Michael H. Vincent congratulated SCEMS on earning the simulation accreditation.
"Once again, our EMS team has shown that it is hands-down the standard for which all others strive," Mr. Vincent said. "With the best training, state-of-the-art equipment, and a drive that is unrivaled, our medics are able to deliver some of the best medical care you'll find anywhere. For that, we are immensely proud of, and even more thankful for, their achievements."
###
Media Contact
Glenn Marshall, Sussex County EMS spokesman