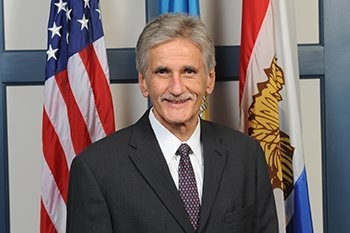 Georgetown, Del., Feb. 21, 2018: Sussex County's top engineer has turned more than 30 years of education and professional experience into a blueprint for success, and now he's bringing home top honors from his peers across the state of Delaware.
The Delaware Engineering Society recently announced that County Engineer Hans M. Medlarz is the 2018 Engineer of the Year, an honor handed out annually by the professional organization of public and private engineers. The Society will present Mr. Medlarz with the award at its annual banquet and conference in Newark, set for Thursday, Feb. 22.
"I'm very honored to receive this award," Mr. Medlarz said. "If you look at some of the past recipients, in industry, government, and academia, you can only be humbled standing in the shadows of people who are truly titans of this profession."
A native of Germany who emigrated to the United States in his early 20s where he earned a graduate degree from Georgia Tech, Mr. Medlarz, 63, of Milford has been employed with Sussex County government since December 2015, serving as County Engineer since his appointment. This is his first time receiving the Society's top honor.
As County Engineer, Mr. Medlarz oversees a 155-member staff that is responsible for designing, constructing and maintaining various multimillion-dollar public projects, including wastewater systems, County buildings, and the County airport near Georgetown. Engineering is the single-largest department within County government, and one of its most critical, employing engineers, project managers, draftsmen, construction technicians, wastewater operators, electricians, and maintenance crews, among others.
A respected member of the Delaware engineering community, Mr. Medlarz has had a successful career in both the private and public sectors, first being hired as the eighth employee – and then becoming a principal – of a Delaware-based engineering consulting firm, and then serving both Kent and Sussex counties as the top engineer for both local governments. A licensed professional engineer, he is a past president of the Delaware Association of Professional Engineers, and is the current vice chairman of the Delaware Water Infrastructure Advisory Council, which advises the Department of Natural Resources and Environmental Control (DNREC) Secretary on capital spending for wastewater and drinking water-related projects statewide. In addition to those appointments, Mr. Medlarz serves on Delaware's Regulatory Advisory Committee for the drafting of the State's new stormwater regulations.
Since joining Sussex County, Mr. Medlarz has kept himself and his staff busy, from consulting on, designing and constructing new wastewater interconnects and disposal systems with municipal partners, to leading the effort to overhaul the County's drainage regulations to improve stormwater flow amid new development occurring in the county.
The Delaware Engineering Society selects the annual recipient from candidates in the public and private sectors in Delaware who make significant contributions to the public through the field of engineering, according to Jason Winterling, president of the organization. Mr. Medlarz was chosen by the selection committee because of his decades of "exceptional service to the residents of Delaware," Mr. Winterling said. "Hans is admired for his commitment to the citizens of Delaware and to the engineering profession in Delaware," Mr. Winterling added.
County Council President Michael H. Vincent congratulated Mr. Medlarz on the honor. "Hans is a tremendous asset to County government, someone who has great technical knowledge and experience and thinks creatively to address the challenges facing the County each day," Mr. Vincent said. "We're proud of his latest professional achievement, and look forward to his many more years of service to the people of Sussex County."
###
Media Contact
Chip Guy, Communications Director