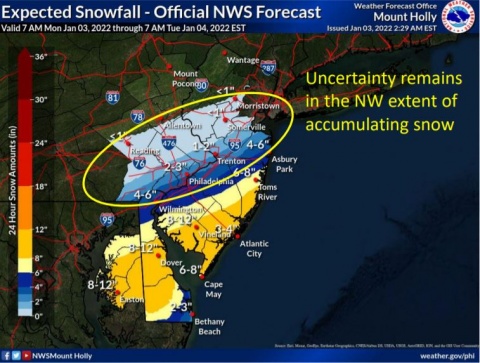 Due to winter weather, County offices are closed Monday, Jan. 3, 2022.
A winter storm warning remains in effect for Sussex County, Delaware, through late Monday, Jan. 3, as heavy snow is overspreading the region. Forecasters are predicting snow accumulating 1 to 12 inches depending on location within the county, with winds as high as 30 mph throughout the day. Meantime, cold air that moves in behind the storm is forecast to drop temperatures across the area into the teens on Monday night.
Please stay tuned to the County's website, social media channels, and local media for any pertinent updates, which will be issued as warranted. To follow the Sussex County Emergency Operations Center's Facebook page, please visit https://www.facebook.com/SussexCountyEOC. For the latest weather updates, visit www.weather.gov/phi/.