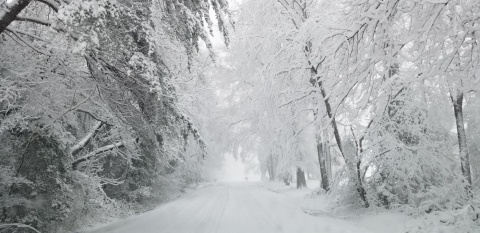 Due to winter weather, Sussex County offices are closed Tuesday, Jan. 4, 2022. Additionally, the County Council meeting scheduled for Tuesday has been canceled. All agenda items will be rescheduled for later dates.
The season's first winter storm has blanketed most of Sussex County with several inches of snow, especially inland locales, some of which have recorded nearly a foot of frozen precipitation. Meantime, cold air moving in behind the storm on Monday night is forecast to drop temperatures across the area into the teens by early Tuesday morning, keeping many secondary and tertiary roads locked in a pack of snow and ice. For that reason, Sussex County advises motorists to avoid unnecessary travel Monday night and Tuesday morning to allow Delaware Department of Transportation and other road crews time to continue plowing operations.
Please stay tuned to the County's website, social media channels, and local media for any pertinent updates, which will be issued as warranted. To follow the Sussex County Emergency Operations Center's Facebook page, please visit https://www.facebook.com/SussexCountyEOC. For the latest weather updates, visit www.weather.gov/phi/.