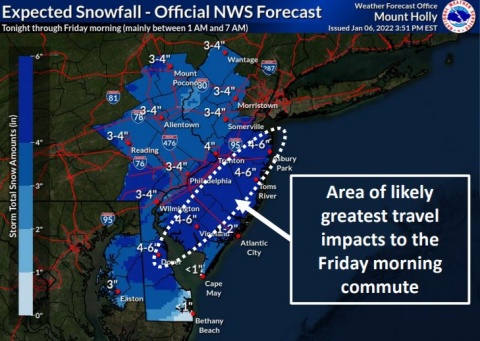 Due to winter storm, County offices will open at 10 a.m. Friday, Jan. 7, 2022.
A winter weather advisory is in effect for Sussex County, Delaware, through mid-morning Friday. Forecasters are predicting rain light to moderate snow ending shortly after sunrise, measuring up to 3 inches depending on location, with wind gusts up to 30 mph throughout the day. Meantime, another shot of cold air will spill into the region behind this latest story - the second this week - and send temperatures into the teens for Friday night.
Motorists are reminded to use caution, allowing themselves additional time and adequate distance from other vehicles, while traveling on area roads today. Meantime, Delaware Department of Transportation crews are now conducting plowing operations to clear roads of snow, but icy spots could remain into tonight and Saturday morning.
Please stay tuned to the County's website, social media channels, and local media for any pertinent updates, which will be issued as warranted. To follow the Sussex County Emergency Operations Center's Facebook page, please visit https://www.facebook.com/SussexCountyEOC. For the latest weather updates, visit www.weather.gov/phi/.