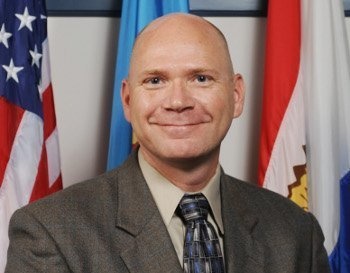 Georgetown, Del., June 24, 2014: Sussex County is turning to a former police and conservation officer to lead its Constable's office, tapping his more-than two decades' experience working with the public to help property owners remain compliant with County Code.
County Administrator Todd F. Lawson on Tuesday, June 24, 2014, introduced Michael J. Costello as the County's new constable, replacing Alan Holloway, who retired this spring. Mr. Lawson said Mr. Costello brings with him more than 25 years of experience in environmental law and criminal code enforcement, working closely with various agencies and the court system in the administration of justice. Mr. Costello comes from the Delaware Department of Natural Resources and Environmental Control, where he worked as a police officer since 1999. Previously, he worked for Rehoboth Beach and Lewes, as well as the Delaware Department of Correction.
"Mike is absolutely the right fit for this job, not just in terms of his experience and training, but his disciplined yet approachable demeanor," Mr. Lawson said. "We are lucky to have him."
Costello will lead a team of inspectors charged with investigating public complaints and enforcing County Code as it relates to zoning issues and property maintenance. The Constable's office also administers the County's dog licensing application process, and works closely with the contracted vendor that provides dog control services in Sussex.
"I'm excited and honored to be joining Sussex County government," Mr. Costello said. "My hope is that the experience and knowledge I bring with me will add value to the services we offer and enhance relationships with our citizens and businesses."
###
Media Contact
Chip Guy, Communications Director