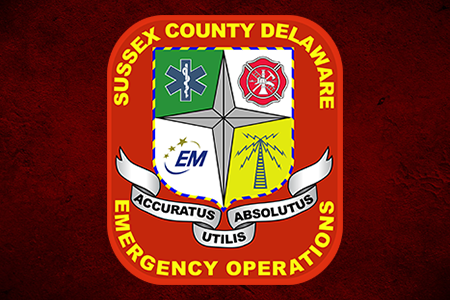 The Sussex County Emergency Operations Center invites residents and property owners to attend an upcoming virtual public meeting to offer ideas and comments on a federally required update to the County's All Hazard Multi-Jurisdictional Mitigation Plan.
The meeting will be held from 10 to 11 a.m. Monday, May 2, 2022, during a Microsoft Teams virtual session. The public can view and participate in the meeting by clicking the following link: https://bit.ly/3OfLX6K; for those without computer access, a dial-in option is available by calling (469) 998-6211 and entering the passcode '981 912 905' followed by the '#' key. There is no physical meeting location.
The hazard mitigation plan, first adopted in 2005 and updated most recently in 2017, serves as a comprehensive, long-term planning tool used to identify various strategies local emergency planners would use in the event of a disaster. The overall goal of the effort is to reduce or eliminate the loss of human life and damage to property as a result of hazards, both natural and man-made.
Local jurisdictions must update their plans every five years. As part of that process, the public has the opportunity to review the plan, offer input, and help shape the update. County emergency planners intend to present updated mitigation actions for the plan revision later this summer.
For more information, to view the current plan, or offer comments in advance, please visit the All Hazard Mitigation Plan page.
For questions, please contact EOC Director Joseph L. Thomas at (302) 855-7801.
###
Media Contact
Joseph Thomas, EOC Director