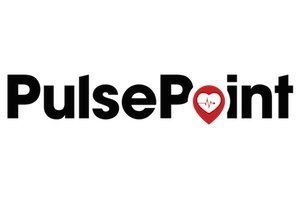 Georgetown, Del. (Tues., April 11, 2017): The power to save someone's life could be in the palm of your hand thanks to a new app.
Sussex County emergency officials on Tuesday, April 11, 2017, announced the rollout of PulsePoint Respond®, a new high-tech tool designed to alert smartphone owners of cardiac arrest calls near their location, allowing them to respond and administer CPR immediately until first responders arrive.
County Emergency Operations Director Joseph Thomas and Emergency Medical Services Director Robert Stuart showcased the app during a presentation before the Sussex County Council and the public during this week's meeting. Directors Thomas and Stuart stepped through a brief overview of the product, and demonstrated how GPS-enabled cell phones can be alerted, based on their location, to a CPR medical call and the closest automated external defibrillator (AED) in that area. The product is free and intended for anyone with a smartphone who is trained in providing cardiopulmonary resuscitation. It works only for cardiac events in public venues, such as businesses, not in private residential settings.
Early application of bystander CPR and rapid defibrillation from an AED have proven to be crucial in improving a person's chance of surviving sudden cardiac arrest (SCA). PulsePoint® is not limited to emergency responders or those with official CPR certification, as it can be used by anyone who has been trained in CPR.
"There are hundreds of thousands of smartphone apps on the market and in our pockets every day, and most of those are designed to entertain us," Mr. Thomas said. "The PulsePoint app has a far greater purpose, giving first responders and dispatchers advanced eyes, ears and hands on the ground in those critical first few minutes during a cardiac event. This is a product that truly could mean the difference between life and death for someone."
The application is the latest digital offering from the County that focuses on public safety, joining Smart911™, an online service that allows residents to create Safety Profiles with pre-loaded information that can assist first responders during a 9-1-1 call. That service, which the County has offered since September 2014, is also free, and travels with users wherever they go in the United States, so long as a jurisdiction uses Smart911™.
Officials say the CPR app's ability to access real-time information from the County's 9-1-1 computer-aided dispatch (CAD) system and couple it with the skills of everyday citizens is a fantastic example of high-tech meeting proven, low-tech methods.
"A phone app can't literally save a life. It takes people with training, resolve, passion, and the desire to help another in need," said Sussex County Council President Michael H. Vincent, who is also a longtime volunteer firefighter and ambulance attendant. "Technology cannot and should not ever replace the human element, but it certainly can give it a boost. We believe PulsePoint does just that."
Sussex County is providing the new service to the public at no cost to users, with funding provided in this year's fiscal budget. "The PulsePoint service represents another meaningful step the County is making in its commitment to public safety," County Administrator Todd F. Lawson said. "We're proud to offer what is power in the people's hands to make a difference in the community."
EMS Director Stuart said the app will be a critical tool that complements professional emergency care, especially when time is of the essence. Deployment of the PulsePoint app can significantly strengthen the "chain of survival" by improving bystander response to cardiac arrest victims and increasing the chance that lifesaving steps will be taken prior to the arrival of emergency medical services.
"Each year we see higher survival rates of sudden cardiac arrest when patients receive bystander CPR," Mr. Stuart said. "PulsePoint Respond expands the traditional bystander response area for patients suffering a cardiac arrest in a public setting and alerts those willing to be part of the 'chain of survival' and help save a life. Any time you expand the responder pool you increase the chances for survival in sudden cardiac arrests."
Developed initially by the San Ramon (Calif.) Valley Fire Protection District in collaboration with Northern Kentucky University in 2009, the app launched publicly in April 2010 and is now managed by the non-profit PulsePoint Foundation in partnership with Workday, Inc. and with support from the CTIA Wireless Foundation. Since then, PulsePoint® has expanded throughout the United States and worldwide, and is available on any smartphone running Apple iOS or Google Android. In Delaware, Sussex County is the first jurisdiction to implement PulsePoint Respond®.
To download the app, search for PulsePoint in the Apple iTunes and Google Play stores. To learn more, visit www.pulsepoint.org/pulsepoint-respond or call (302) 855-7801.
###
Media Contact
Chip Guy, Communications Director