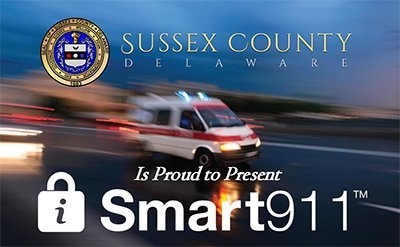 Sussex County wants the public to be smart when it comes to preparing for the worst.
The County, in partnership with Delaware State Police, the Sussex County Volunteer Firefighters Association and the Seaford and Rehoboth Beach 9-1-1 dispatch centers, announced Thursday, Sept. 11, a new high-tech tool designed to give first responders critical information about those in need when seconds count.
Called Smart911™, the online service allows any Sussex County resident to create a Safety Profile for his or her household, and pre-load information in that profile should someone ever need to call 9-1-1. The service, which is completely voluntary and free to use, is unique in that it allows users to control their information, which travels with them wherever they may go in the United States, so long as another jurisdiction uses the Smart911™ program. The service, available at www.smart911.com, is especially helpful for people with specialized conditions, young children, or mobile phones, which unlike a home or business, do not have a physical address.
For instance, a diabetic with asthma could include his or her specific medical information in a Safety Profile, which would also include that person's mobile telephone number and home address. If the user ever dials 9-1-1, the pre-loaded information will display on a dispatcher's screen at any 9-1-1 center that uses Smart911™ – whether in Sussex County, Del., or King County, Wash. Meanwhile, parents can include pictures of their children in their household profiles that could be used to give first responders an instant image should a child ever become lost.
Information is encrypted and never released publicly, and is only relayed to dispatchers when a phone number associated with a household's pre-loaded profile calls 9-1-1.
"Taking a few minutes now to answer some basic questions could be a life-saver when you or someone in your family needs help," said Sussex County Council President Michael H. Vincent, who is also a longtime volunteer firefighter and former Seaford fire chief. "What Smart911 allows the public to do is to plan ahead, when people are calm and thinking clearly. They answer many of the same questions dispatchers would ask during an emergency call, when the situation might be chaotic, and it all can be done in just a few minutes. That could save precious minutes later on when timing is everything."
Smart911™ provides details that otherwise would have to be collected in the moment of crisis, which can affect the type and speed of response when an emergency call is placed. That can mean the difference between life and death.
Sussex County is providing the new service to the public at no cost to individual users or families. County Council included funding for the service beginning in the FY2014 budget.
"The Smart911 service represents another critical investment Sussex County has made in public safety," County Administrator Todd F. Lawson said. "Public safety is the single-biggest, and arguably most important, investment the County makes each year, from our award-winning EMS service and state-of-the-art 911 center to our partnerships with local fire companies and local and State police. We're proud to be able to offer this life- and time-saving service to the people of Sussex County."
Developed by Rave Mobile Safety and launched in 2010, Smart911™ is available in more than 1,000 communities in 35 states. In Delaware, Sussex County is the second jurisdiction to implement Smart911™; New Castle County has utilized the service since 2013.
"Smart911 allows a person to add cell phone numbers, pictures of family members, and any conditions or information that they believe would help dispatchers send the appropriate response," Sussex County Emergency Operations Center Director Joseph L. Thomas said. "This will be especially helpful for those visiting our communities. If you are here on vacation and have a Smart911 profile, and an unfortunate emergency arises, this tool will give our 911 dispatchers the information they need to assist quickly in a time of need. We're proud to be able to offer the peace of mind that Smart911 provides."
To learn more about Smart911™ or to sign up, click the Smart911™ badge on the Sussex County website at sussexcountyde.gov or go directly to www.smart911.com. For residents without Internet service, Smart911™ information and registration is available at any library in Sussex County.
For further information or assistance, please call (302) 855-7801.
###
Media Contact
Chip Guy, Communications Director