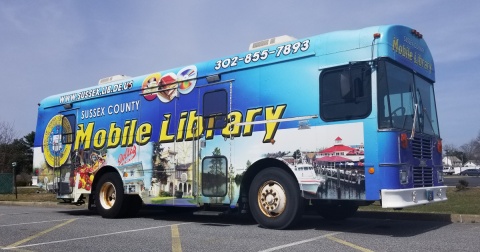 Georgetown, Del., March 23, 2021: Sussex County's Mobile Library is being drafted to serve as a mobile medical unit, as the wartime-like effort to defeat COVID-19 intensifies across Delaware and throughout the United States.
Thanks to a partnership among two County agencies and Beebe Healthcare, the bookmobile will be deployed by early April into hard-to-reach and underserved communities throughout Sussex to put more shots in the arms of Delawareans. It is the latest strategy in the ongoing effort to end the coronavirus pandemic that has gripped the globe for more than a year.
County Council, at its Tuesday, March 23, 2021, meeting, approved a memorandum of understanding between the County – specifically Emergency Medical Services and the Department of Libraries – and Beebe Healthcare to facilitate the first-of-its-kind venture, utilizing the County's dormant bookmobile as a mobile stage to distribute vaccines in the community.
"This is an incredible, innovative approach that will make a real difference in the community and in the lives of so many of our people," County Council President Michael H. Vincent said.
Under the plan, the County's Mobile Library, which has been parked since the coronavirus pandemic began in early 2020, will serve as a medical unit, setting up in targeted areas of the County at least once a week to distribute COVID vaccines. Library staff will be responsible for transporting and setting up the unit, a converted 2000 Thomas Built Bus usually stocked with books, DVDs, and other media, while County paramedics will be on hand to assist Beebe staff in administering the COVID-19 shots, as well as monitor patients for any adverse reactions. In addition to providing and administering the shots, Beebe Healthcare will also identify communities, as well as handle all patient scheduling, in advance.
Shots will be provided to recipients with no out-of-pocket costs.
"Vaccinations play a key role in protecting our residents and this partnership will assist in ensuring that those who desire to be vaccinated will have that opportunity," Sussex County Emergency Medical Services Director Robert W. Murray Jr. said. "This is a great example of 'thinking out of the box' and an opportunity to partner with the Library staff and Beebe to provide vaccinations to the residents who need it."
Director Murray said the unit will be deployed 'as needed' to areas identified by Beebe Healthcare as either underserved or where residents may have difficulty in accessing other vaccination events. These locales would include housing developments and mobile home communities where there may be a higher concentration of seniors or those without sufficient transportation, and where a central community center might not be present, for example.
"Beebe Healthcare's Population Health team is proud to partner with Sussex County EMS and others to bring a mobile vaccine clinic to communities in Sussex County," said Dr. Bill Chasanov, Beebe Healthcare COVID-19 Response Medical Director. "This collaboration provide access to safe, effective, and life-saving vaccines to communities who may not be able to receive it through traditional approaches, accomplishing the goal of an equitable distribution."
When serving the libraries' mission, the Mobile Library travels throughout the county, making stops at senior centers, day-care facilities and other sites where a community library is not present or where a large group of individuals can be served.
For its special detachment, the Mobile Library will be missing most of its usual content and will not be checking out items to the public. But staff plan to be on hand with promotional information about services and programs at the County's brick-and-mortar libraries, which are now open, and to distribute giveaways to those who come out for vaccines.
"In a way, this continues the Mobile Library's mission, which is to provide services to those with limited or no access. So, this partnership with SCEMS and Beebe to reach those same communities to provide COVID vaccinations makes perfect sense," County Librarian Kathy Graybeal said. "That's tremendous service on every level, and we're proud to be part of it."
Communities interested in learning more should contact outreach@beebehealthcare.org.
###
Media Contact
Chip Guy, Communications Director