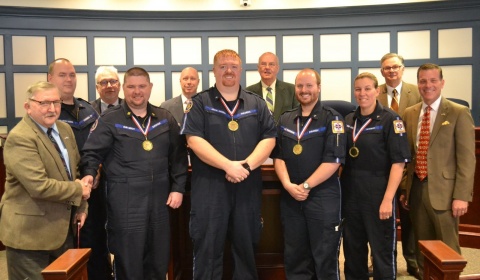 [Charlotte, N.C., Feb. 28, 2018] – There are more than just American athletes bringing home the gold this winter season.
A Sussex County Emergency Medical Services team on Thursday night, Feb. 22, 2018, earned a gold medal for the members' performance in the 2018 Journal of Emergency Medical Services (JEMS) Games in Charlotte, N.C. The competition among elite groups of first-responders was held Feb. 16 through Feb. 23 during the EMS Today Conference, an annual educational gathering and exposition for pre-hospital care providers.
This year's competition included 27 teams from EMS agencies across the United States. Sussex County's team included paramedics Jason Hansen, Bonnie O'Bier, Brandon Rogers, Chaz Tennermann, and John Wright.
Sussex County's most recent win is the first for the agency since 2013, and seventh overall since 2005. "I am extremely proud of this team because I know how hard they have worked to represent Sussex County as the finest of their profession," Sussex County EMS Director Robert Stuart said. "It is a tremendous honor and a testament to the dozens of talented, dedicated, award-winning professionals working every day to save lives here in Sussex County."
Sussex County got out to an early lead and never looked back, placing first in the preliminary round and holding on in the finals against two other teams. The final phase of the competition included a mass casualty, active-shooter incident with several medical and trauma patients. Paramedics were judged on their ability to effectively perform simulated patient care, which included triage (prioritizing injuries), treatment, and transportation of patients.
Joining Sussex County EMS in earning medals at the JEMS Games were Leland, N.C., Fire/Rescue, and Cape Fear Valley, N.C., EMS, which placed second and third, respectively.
This year's gold medal adds to Sussex County EMS's previous successes. Past Sussex County EMS competition teams in the JEMS Games have earned gold medals in 2005 and 2011, as well as silver medals in 2006, 2009 and 2010, and a bronze medal in 2013. Outside of the JEMS games, Sussex County EMS also placed third during the Magen David Adom (MDA) 2008 Olympics, an international EMS competition held in the Dead Sea region of Israel.
Sussex County Administrator Todd F. Lawson congratulated the team on its successful showing in the competition, adding that Sussex County residents should be proud of the dedicated professionals who make up the squad and the larger EMS organization. County Council recognized the team during the Feb. 27, 2018, meeting, earning the group a round of applause.
"Sussex County's paramedics have shown once again that they are among the best of the best, and set a very high bar for their fellow first-responders," Lawson said. "We congratulate the team for its success at this year's JEMS games, and for delivering every day, whether in a competition or out on the streets, the highest quality care available."
###
Media Contact
Glenn Marshall, EMS spokesman