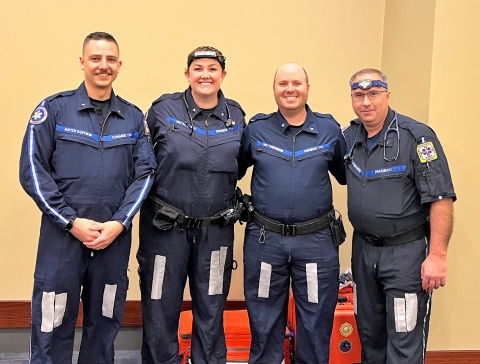 [Indianapolis - April 28, 2023] – Sussex County is the gold standard in pre-hospital medical care.
A Sussex County Emergency Medical Services team on Friday morning, April 28, 2023, earned a gold medal for the members' performance in the 2023 Journal of Emergency Medical Services (JEMS) Games in Indianapolis. The competition among elite groups of first responders was held April 26 through April 28 during the FDIC International conference, an annual educational gathering and exposition for fire and rescue professionals.
This year's competition included several teams from EMS agencies across the United States, as well as one from South Korea. Sussex County's team included paramedics Steve Desrosiers, Austen Kauffman, Kristen McAfee, and Chaz Tennermann.
Sussex County's latest win is the eleventh overall since 2005, and the first gold in five years. "We are tremendously proud of our team and their accomplishment, and to be able to carry on that tradition of excellence and professionalism that is at the core of everyone at SCEMS," Sussex County EMS Director Robert Murray said. "More than that, though, we are proud to represent the people of Sussex County, who depend on us and the countless other first responders in our community who serve as a critical lifeline when seconds and minutes count."
The final competition was designed to challenge each team's ability to work as a cohesive unit under pressure, while providing appropriate and efficient patient care. Communication among team members was critically important as they faced multiple patients, critical injuries and emotional bystanders, according to JEMS.
Joining Sussex County EMS in earning medals at the JEMS Games were the Zionsville, Ind. Fire Department and San Miguel, Calif. Fire & Rescue, which placed second and third, respectively, in the final competition.
This year's gold medal adds to Sussex County EMS's impressive record. Past SCEMS competition teams in the JEMS Games have earned gold medals in 2005, 2011, and 2018, silver medals in 2006, 2009, 2010, and 2019, and bronze medals in 2013, 2020, and 2022. Outside of the JEMS games, Sussex County EMS also placed third during the Magen David Adom (MDA) 2008 Olympics, an international EMS competition held in the Dead Sea region of Israel.
Sussex County Administrator Todd F. Lawson congratulated the team on its successful showing in the competition, adding that Sussex County residents should take comfort in knowing their EMS organization is among the best in the nation.
"Sussex County's paramedics pride themselves on providing the highest quality care possible, not just in competitions, but on every call," Mr. Lawson said. "This win symbolizes that commitment to their profession, and to the public they serve, and we couldn't be more honored – and thankful – to have the best people giving their best for us each and every day."
###
Media Contact
Glenn Marshall, Sussex County EMS spokesman