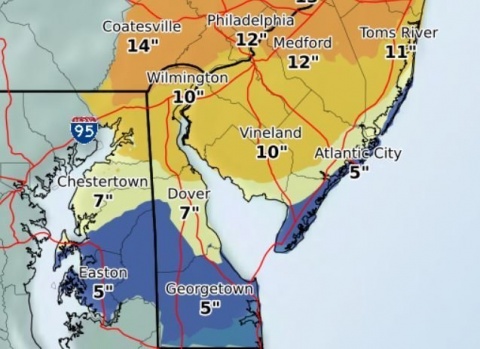 Georgetown, Del. (1 p.m. Tues., March 20, 2018): Sussex County and much of the Eastern Seaboard are in store for a season-ending tandem of coastal storms during the next 36 hours, with several inches of heavy, wet snow, strong winds, beach erosion, coastal flooding, and even some 'thundersnow' set to kick off the arrival of spring.
The National Weather Service in Mt. Holly, N.J., has issued winter storm and coastal flood warnings for Sussex County, beginning this evening and lasting through the early morning hours Thursday, March 22. Forecasters predict 4 to 10 inches of snow to fall, with much of that occurring during the day Wednesday, the first full day of spring. Meantime, winds out of the east and northeast as high as 50 mph are expected to cause minor and moderate coastal flooding in low-lying areas, especially during times of high tide, along the Atlantic-facing beaches, Delaware Bay, and around the county's Inland Bays. Tides could run 1 to 3 feet above normal as a result of two coastal systems, one that is forming along the Mid-Atlantic now, and another expected to develop in its wake on Wednesday, forecasters said.
The Sussex County Emergency Operations Center is monitoring the storms and forecasts, and cautions residents, particularly those in vulnerable areas, to prepare ahead of the expected winter weather, high winds, and coastal flooding.
"Our greatest concern with storm systems like this is not just the snow and mixed precipitation, but the strong winds and tides continuing over several tide cycles," Sussex County EOC Director Joseph L. Thomas said. "It just compounds the situation. Over the next couple of days, the public should expect hazardous travel with snow- and water-covered roads, possible downed trees and power lines, power outages, and coastal flooding."
The developing storms are the latest in a string of nor'easters to form along and affect the Northeast region this March. Forecasters expect rain to continue throughout the day and into this evening from the current storm, with a switch to mixed precipitation and then all snow beginning around sunrise Wednesday as a second storm develops and draws in colder air from the north. The snow will continue, heavy at times, throughout the day Wednesday before tapering off Wednesday night. Forecasters predict the storms will be strong enough to create snowfall rates of 1 to 2 inches of snow per hour, and could even result in a few claps of thunder, also known as 'thundersnow'.
Beyond the rain and snow, flooding and strong winds are of equal concern for the county, Mr. Thomas said. Areas that historically flood could see minor to moderate flooding in the hours ahead with tides running as much as 1 to 3 feet above normal, pushed onshore by northeast winds that could gust to 50 mph along the coast before switching to the northwest as the second storm spins away Thursday morning.
As a reminder, residents and property owners should secure loose objects, such as lawn items and trash cans, to prevent winds from turning those items into projectiles. Also, residents in low-lying areas should make sure submersible pumps are working and check storm drains to ensure they are clear of debris, and move vehicles from flood-prone areas to higher ground.
For updates, stay tuned to local television and radio stations, as well as the Sussex County website at sussexcountyde.gov. The public also should monitor the National Weather Service, at www.weather.gov/phi for the latest forecasts.
Meantime, Sussex County offers a variety of social media outlets, which are a great resource for up-to-date storm information. Please follow along at: www.facebook.com/SussexCountyDE, www.facebook.com/SussexCountyEOC, and www.facebook.com/SussexCountyEMS on Facebook; and twitter.com/sussexde_govt, twitter.com/SussexCtyDE_EOC, and twitter.com/SussexCoDE_EMS on Twitter.
###
Media calls should be directed to EOC spokeswoman Debra Jones at (302) 855-7801 or Sussex County Communications Director Chip Guy at (302) 854-5000.
Media Contact
Chip Guy, Communications Director