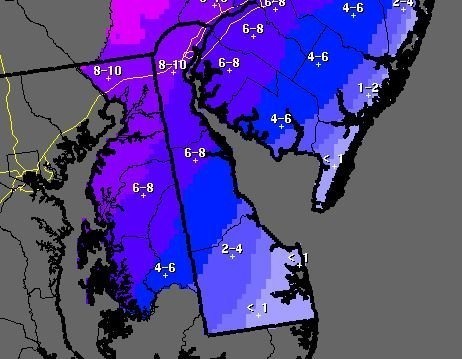 Sussex County is facing yet another winter storm, with a mixed bag of snow, sleet, rain, gusty winds and minor flooding on tap from a nor'easter that will stretch from the South to the Northeast.
Snow is expected to begin falling across the county later tonight, Wednesday, Feb. 12, likely after the evening commute, and continue into the overnight hours before transitioning to sleet and eventually rain for most, if not all, of the county. The transition is expected to occur first in coastal areas and then spread north and west around daybreak; just how quickly the transition occurs, though, will dictate how much snow accumulates.
A winter storm warning is in effect for Sussex County until 1 p.m. Thursday, Feb. 13.
National Weather Service forecasters predict snowfall totals ranging from as little as an inch at the beaches, 2 to 4 inches through the center of the county, and as much as 4 to 6 inches in the northwest corner. Meantime, winds of 25 to 35 mph, with gusts to 40 mph, coupled with wet snow and saturated soil, could cause downed trees and power lines.
"This looks like it could be a messy 36 hours ahead," said Sussex County Emergency Operations Center Director Joseph Thomas. "Hopefully, that snow-to-rain transition occurs pretty quickly and cuts down on our snow totals. We still may face some issues with slippery roads, power interruptions and some minor flooding. Right now, the public should monitor the storm and make the necessary preparations."
For updates on the storm or any emergency response, stay tuned to local media outlets, and be sure to follow the County's Facebook and Twitter feeds, www.facebook.com/SussexCountyDE, twitter.com/sussexde_govt and twitter.com/SussexCtyDE_EOC. For non-emergency storm-related questions, contact the EOC's storm hotline at (302) 856-7366.
Media Contact
Chip Guy, Communications Director