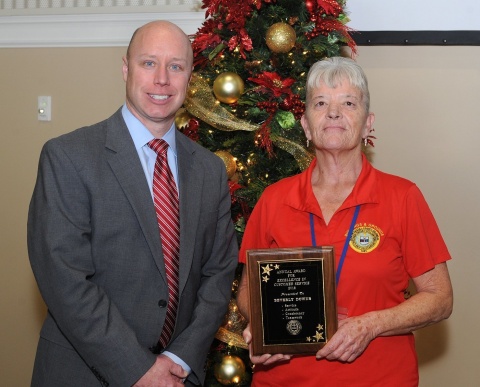 Georgetown, Del., Dec. 7, 2018: Sussex County has named Beverly Downs of Selbyville the 2018 employee of the year for County government.
This year's winner was announced during the annual Mildred King Luncheon for the County's approximately 500 employees. Ms. Downs was selected from a field of four employees, all quarterly winners this past year, for the honor.
Ms. Downs, this year's first quarter winner, received a standing ovation as she was presented with a plaque.
"I just appreciate everyone caring and for all of their support," said Ms. Downs, who serves in the County's Facilities Management division as the lead custodian. "I'm very humbled by this award. I just try to do the best job that I can each day."
County Administrator Todd F. Lawson commended Ms. Downs for her four years of dedicated service to County government, which began in December 2014. As lead custodian, Ms. Downs is responsible for ensuring the County is always presenting its best face, and with an upbeat attitude and a meticulous attention to detail, she keeps County facilities in top-top shape so they are clean and inviting for guests and staff. It is pride in her work and her genial nature that have earned Ms. Downs the admiration and respect from her peers, Mr. Lawson said.
###
Media Contact
Chip Guy, Communications Director