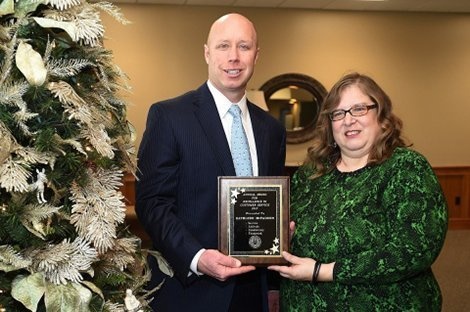 Georgetown, Del., Dec. 1, 2017: Sussex County has named Kathleen A. McFadden of Slaughter Beach the 2017 employee of the year for County government.
This year's winner was announced during the annual Mildred King Luncheon for the County's approximately 500 employees. Ms. McFadden was selected from a field of four employees, all quarterly winners this past year, for the honor.
Ms. McFadden, this year's first quarter winner, received a standing ovation as she was presented with a plaque.
"I'm in shock, but I'm very honored to have been selected," said Ms. McFadden, a library assistant for the Department of Libraries' Mobile Library. "With the Bookmobile, we're all about customer service. For us, it's more than delivering books. It's about bringing joy to people, and the smiles on people's faces. That's the biggest reward for me."
County Administrator Todd F. Lawson commended Ms. McFadden for her three years of dedicated service to County government, which began in October 2014. Mr. Lawson praised Ms. McFadden for her commitment to going above and beyond for the customer, including offering to deliver books to a local school for a student's research project on a day when the Mobile Library was out of service and Ms. McFadden was planning to go home sick. It's that spirit that customers appreciate, and has earned the respect of her peers, Mr. Lawson said.
###
Media Contact
Chip Guy, Communications Director