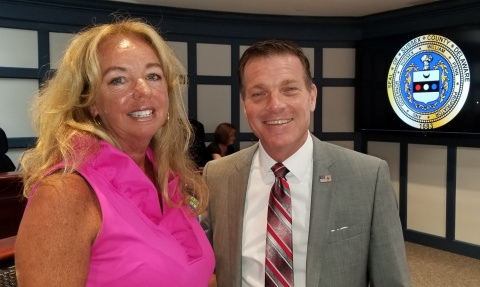 Georgetown, Del., June 19, 2018: Sussex County's Planning & Zoning Commission will have a new perspective on construction and land use matters starting next month.
County Council, at its Tuesday, June 19, 2018, meeting, appointed Holly J. Wingate of Millville to a seat on the five-member panel, a Council-appointed body that reviews and gives consideration toward subdivision applications and other land use requests. Ms. Wingate was nominated from a field of four potential candidates, and interviewed by the Council during a public session. The appointment will take effect July 1, following the departure of Commission Chairman Martin Ross on June 30, and last through June 2021, when the three-year term ends.
Fifth District County Councilman Robert B. Arlett nominated Ms. Wingate to fill the seat following Commissioner Ross' announcing earlier this spring his intent to retire after nearly 10 years on the panel. Councilman Arlett thanked Mr. Ross for his service, and said he anticipates Ms. Wingate's past service on the Town of Millville's planning commission, as well as a career with a local construction company serving in various roles that have included accounting, payroll, and now managing the firm's various construction projects, will provide for a smooth transition.
"Holly is a fantastic fit for the planning commission. She is active in her community, has more than 30 years of experience in the construction industry, and has served as a Town official," Mr. Arlett said. "Whether reading plans, understanding complex regulations, crafting a comprehensive plan, or working with everyday citizens, she has done it all. I am excited to have Holly join us and I look forward to her using her versatile talents to strengthen our community."
###
Media Contact
Chip Guy, Communications Director