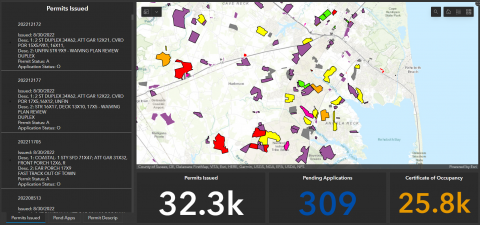 Georgetown, Del., Aug. 30, 2022: Sussex County is on the map when it comes to innovative design.
Recently, the international Urban and Regional Information Systems Association (URISA) announced the County as the winner of its Exemplary Systems in Government (ESIG) award for enterprise systems for a custom online portal that tracks building permits and road improvements in southern Delaware. Known as the Sussex County-DelDOT Permit Tracker, the portal allows the County and the Delaware Department of Transportation – and anyone else using the public product – to view real-time information on projects, specifically agreements for triggering road improvements based on the number of building permits issued for new housing.
The County's geographic information systems (GIS) team, besting submissions from Plano, TX, and Los Angeles County, will accept the award at the GIS-Pro conference in Idaho this October.
The GIS-based application, developed in 2021 by the County's Geographic Information office, DelDOT, and the Delaware Technology & Information department, aims to bridge the information gap between the State, responsible for managing roads, and the County, which governs land use.
"We hope this will mean improved accountability, better efficiencies, and ultimately more transparency," County Administrator Todd F. Lawson said. "The County is excited to win this award, which acknowledges how government of all levels can work together and use the latest technology to leverage a better product for the public we all serve."
For more information on the URISA awards, visit the URISA press release.
###
Media Contact
Chip Guy, Communications Director