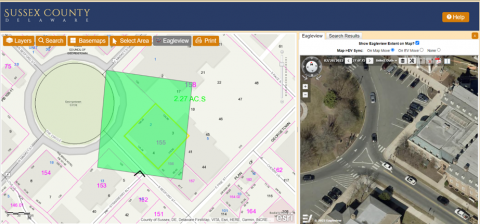 Sussex County's OnlineMap application has been updated with new aerial imagery tools. The County obtained the new imagery through the county-wide reassessment project. This new feature provides a great enhancement to Sussex County's widely used mapping application.
A new tab has been added to the search results window and when activated, a new green rectangle displays the extent of the current Eagleview imagery view within the map. The imagery extent can be adjusted by panning the map window on the left, or by changing the setting to "On EV Move" to pan the imagery view from within the Eagleview tab.
Sussex County is excited for users to try out all the new tools and features included in this enhancement.