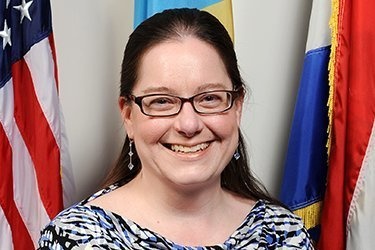 Georgetown, Del., Jan. 9, 2017: The public can plan on seeing a much different face leading Sussex County's land use office from now on.
Janelle M. Cornwell takes over as Sussex County's new Planning & Zoning director, the first change in leadership in the office since the mid-1980s. She succeeds longtime planning director Lawrence B. Lank, who officially retired Friday, Jan. 6.
In her new position, Ms. Cornwell will oversee a staff of nearly a dozen employees in one of the County's highest-profile departments. Planning & Zoning, among other duties, oversees land use in unincorporated parts of Sussex County, and supports the County Council, Planning & Zoning Commission and Board of Adjustment as development applications work through the rezoning, subdivision, conditional use and variance processes. Among her highest priorities in the next year and a half will be soliciting input and guiding the development of Sussex County's comprehensive plan update, which is due for adoption in 2018.
"I am honored to have the support and endorsement of the County Council, the Planning & Zoning Commission and County Administration," said Ms. Cornwell, whom Council named in October 2016 as director-appointee. "I look forward to working closely with staff, the public and the development community to ensure everyone has the best information possible when it comes to land use and zoning."
A native of Ohio, Ms. Cornwell joined Sussex County in February 2015 as planning manager and brings with her more than 15 years of planning experience in urban and rural jurisdictions in both the public and private sectors. Before moving to Sussex County, she worked as a planner in the Kent County and City of Dover planning offices. She holds a master's degree in geography and planning from the University of Toledo, and is certified by the American Institute of Certified Planners. She has experience in geographic information systems (GIS), site redevelopment, and policy research and development.
County Council President Michael H. Vincent praised Ms. Cornwell for her knowledge of planning issues, and her success thus far in spearheading the County's comprehensive plan update, the blue print of sorts for development in the county for the next quarter-century.
"It's always good when we have good people on staff and we can promote from within," Mr. Vincent said. "Janelle is more than qualified to help this county take on the issues and challenges that land use can present. We're very confident in her ability to do the job and lead this very important department."
###
Media Contact
Chip Guy, Communications Director